White--it's crisp clean and chic. In fact, it's so trendy that Dinner En Blanc has spread worldwide.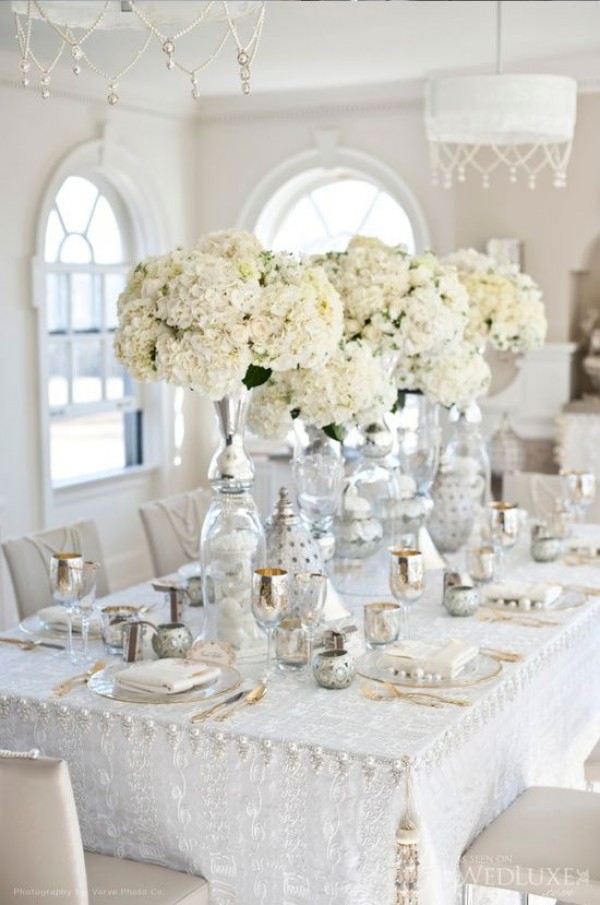 Photo credit: Style Motivation
White themed weddings are ideal for summer as it detracts sunlight to keep guests cool but it also is the perfect theme for winter weddings draped in snow or sparkling ice. Here are some ideas to take Dinner En Blanc to the next level for your white-on-white themed wedding in Philadelphia.
Invitations: White invitations are classy and simple. Make sure that your wedding invitations expressly mention the white themed dress code to prevent a wedding guest faux pas. Also, convey the theme to your wedding vendors like the officiant, entertainment and photographer so they have the choice to opt in with their attire.
Attire: Your groom will stand out from the rest in an all white suit or tuxedo. Perhaps, dress it up with white suspenders and a vest or a white on white tie design.
Bridesmaids may want to dress in an off-white shade to differentiate from the bride. Nails? A French Manicure or even white with white dots is a fun idea.
Florals: Tracking down your favorite white flower from cream to ivory and every shade in between is almost too easy with such a large variety of flowers available year-round. Roses, calla lily, white gardenias, peonies, helleborus, hydrangea, lisianthus, tulips, and white astilbe are several choices to consider for your en blanc bridal bouquet and floral arrangements. Wedding florists will listen to your unique vision and create the right arrangements for this white wedding theme.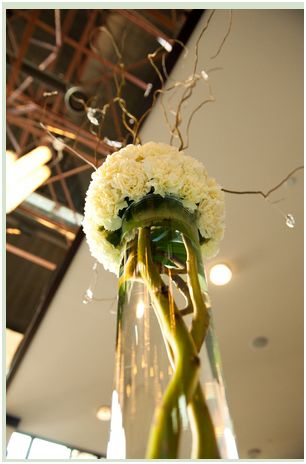 Photo credit: Fleur De Lis Floral
Linens: A lace embellishment, doily or overlay on your tables adds texture. Consider a white on white design like chevron strips to create another dimension to linen rentals.
Décor: White wash is beautiful for a rustic wedding en blanc! Use this idea for tables, frames and signage. Stylish white chase lounges or couches bring it all together. White chairs or ghost chairs are excellent choices for guest seating.
Dessert: Buttercream is an obvious choice but wedding cakes can offer a variety of texture and design in white stripes, edible pearls, dots or sugar flowers. However, if a dessert bar is on your list, think white chocolate dipped Oreos, pretzels and animal crackers with white non-pareils, creme brulee, vanilla French macarons, vanilla gelato, popsicles and more. Chai tea, anyone or white chocolate latte to accompany your sweet tooth?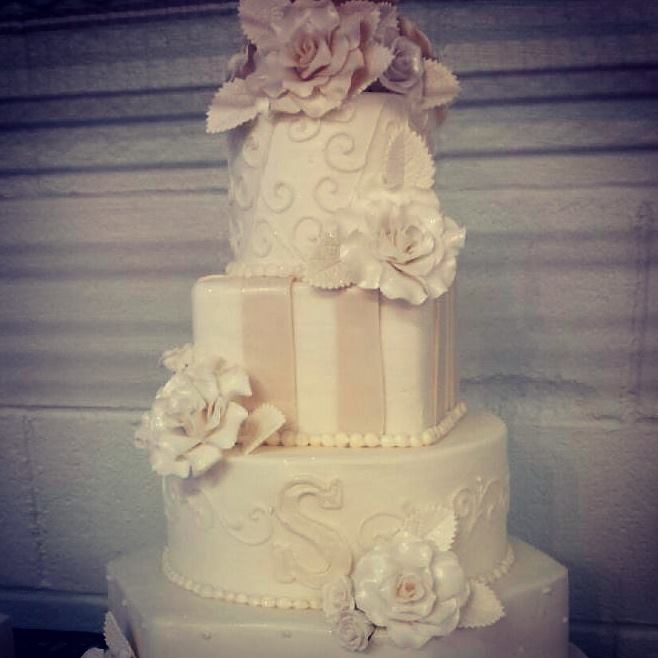 Photo credit: Bredenbeck's Bakery