This week we are featuring some of our favorite venues in Montgomery County!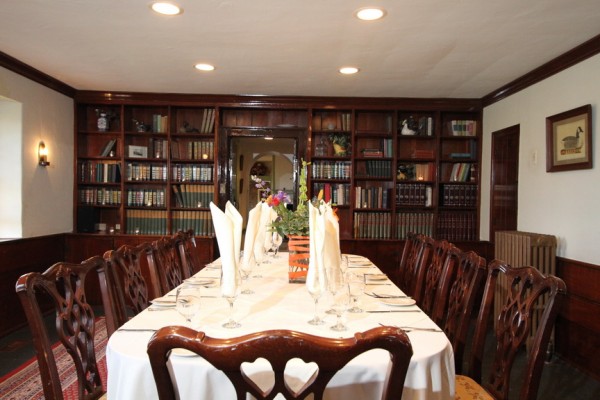 Photo Credit: Joseph Ambler Inn
Merion Tribute House: Merion Tribute House is in Merion Station, where it was "designed in the Arts and Crafts style of the 1920's, Merion Tribute House was built to hold community events and social functions - so the layout is perfect for parties, large and small." This historic wedding and event venue features "three front rooms with slate floors, a breathtaking stone cathedral, carved wood-beamed ceilings, fireplaces and stained glass windows. Majestic doors open onto the flagstone terrace during cocktail hour while the ballroom will seat 175 guests with a dance floor for your reception."
MOYO: This Schwenksville wedding and event venue, formerly known as The Barn at Lochwood, dates from the late nineteenth century and features "4,000 square feet of dining and dancing space, a built-in bar, balcony, vintage-style lighting and meticulous restorations throughout." MOYO also features an on-site wellness center and spa, making this venue perfect for any "chic, yet rustic, once-in-a-lifetime wedding celebration, retreat, corporate event or conference."
Clothier Hall: Clothier Hall is a historic Wynnewood wedding and event venue that features "a vast manicured landscape surrounded by mature trees, featuring options for a beautiful garden ceremony and tented patio for cocktails or receptions. Inside boasts a spacious ballroom."
The Manor House at Commonwealth: This Horsham venue overlooks the Commonwealth National Golf Club and is "known for its hospitality." The Manor House at Commonwealth is a rustic Montgomery County country club venue that features "a spacious, yet quaint 18th-century fieldstone farmhouse with 21st-century amenities... The Manor House is known for its hospitality."
Loft at Landis Creek: The Loft at Landis Creek is a Limerick wedding and event venue. Formerly known as The Loft at Limerick Golf Club, this rustic venue "features a 28-foot high open beam ceiling with Tudor accents, large floor-to-ceiling windows with a spectacular view, wonderful photo locations, personal wedding consultant, great service, great food and so much more."
Joseph Ambler Inn: A rustic wedding and event venue, the Joseph Ambler Inn is "tucked away on 12 acres of rolling countryside" in North Wales. Also a restaurant and hotel, the venue features "52 individually decorated guestrooms, a banquet room for up to 200 people, and several smaller meeting and conference spaces... Steeped in history, elegance, and tradition, our classic Inn is a wonderful setting for bridal couples wanting a Philadelphia-area destination wedding to remember."
The SunnyBrook Ballroom: The SunnyBrook Ballroom is a Pottstown wedding and event venue that features a "picturesque wedding garden," the opportunity for a couple's story to become a part of SunnyBrook's history, and "a personalized brick used to pave the very path you walk down to say 'I DO'."
Talamore Country Club: A historic country club and wedding venue located in Ambler, Talamore Country Club "weaves the elegance and charm of a 20th Century Scottish Manor Estate with the cutting-edge style and sophistication of today" and features a number of event spaces, including the Conservatory Ballroom, which includes "a two-story vaulted ceiling, dramatic butterfly staircase, 30-foot waterfall and a 1,000 square foot dance floor, the largest in the area," The venue also features the Magnolia Ballroom, which "which accommodates 150 guests, showcases a 30-foot waterfall, updated large LCD televisions and a beautiful marble dance floor."
Alverthorpe Manor: This Abington gallery and event venue, also known as Abington Art Center, where it "unites an inspiring landscape with works of contemporary art to provide a remarkable venue for your special event." Situated inside a historic house, the venue features "multiple, unique event spaces" and "access our beautiful art galleries," making Alverthorpe Manor a wonderful choice for any celebration.
Highlands: The Highlands is a historic Fort Washington home turned wedding and event venue. The venue is a Georgian mansion situated "on top of a hill in the midst of 44 acres of rolling hills and beautifully landscaped gardens…" the venue "offers a unique setting for that special day… four rooms… connected by a long hallway, fifteen-foot ceilings and two rooms on the second floor for the bridal party. There are also two terraces facing the gardens and the woods…"
Are you still searching for the perfect venue? Click here! Searching for amazing vendors? Click here!