Whether it's your taste for local red or white wine or simply enjoy being surrounded by nature, several Philadelphia area wedding venues on a vineyard provide a fun yet serene setting in a rustic atmosphere. Here are five of our favorites:

Photo credit: Vintner's Room at Tomasello Winery
1. Vintner's Room at Tomasello Winery:
Located in South Jersey, the 70-acre Tomasello Winery is oldest family-run winery in the state. Established in 1933, the vineyard is now run by the Tomasello Family's third generation winemakers.
The vineyard features a courtyard lined with cobblestone, an arched gateway, and lattice gazebo. Its Vintner's Room is inspired by the French countryside with an interior comprised of cathedral ceilings, crystal chandeliers, and marble flooring. Tomasello Winery's 12,000 square foot state-of-the-art wedding and event venue in South Jersey celebrated its grand opening in late April 2015, with three very distinct spaces. Foremost among its amenities is its exclusivity, hosting only one wedding or event per day complete with a wedding coordinator.
2. Conroy Catering at Laurita Winery: Laurita Winery, located in Central New Jersey, is where respect for wine and old world tradition meets state-of-the art architecture and agriculture. Situated on 40 acres of vineyards and 200 acres of natural vegetation and woodlands, the sustainable winery derives its energy through solar panels.
The venue has indoor and outdoor facilities that range on accommodating groups of 40 and up to 225 guests, depending which area you choose. However, utilizing their tents provide even more space for parties larger than 225.
3. Rose Bank Winery: Although Bucks County's own Rose Bank Winery introduced its new facility in 2012, its manor house and carriage house date back to 1719 and 1720, respectively. It was a subdivision of land deeded by William Penn to his daughters.
Rose Bank Winery with its three event spaces has the right fit to meet your wedding reception needs. The Buckman Barn, built in 1835, has quite a history as it was struck by lightning and a portion burnt down several years ago. It was restored of course, offering a unique 2-story venue that can host up to 60 guests. The barn's large windows look out to farmland where Southdown Babydoll sheep graze.
4. Sand Castle Winery: A tree-lined drive welcomes your wedding guests to the winery which is located on the beautiful banks of the Delaware River in historic Bucks County. The building with a facade and architechture reminiscent of a sand castle, is centered on 70 acres of vinifera grape vines. Windows of the Mountain View Room display dramatic views of the vineyard overlooking the river. Guests will enjoy a visit to the tasting room or a guided tour of the wine cellar.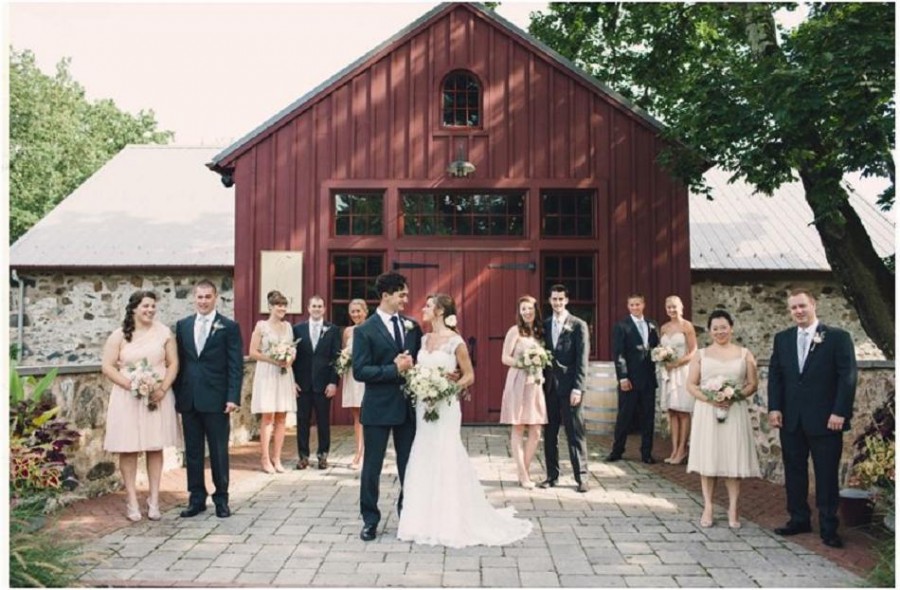 Photo credit: The Inn at Grace Winery/Lauren Fair Photography
5. The Inn at Grace Winery: Whether it is your dream wedding in the barn, corporate meeting, private family dinner in the winery, or cocktail reception on the back patio overlooking Sweetwater Wood, Grace Winery is a perfect wedding or event destination! The barn at Grace Winery is a newly renovated 1750s bank barn that is home to its winery, wine tasting room and event space. The beautifully designed rooms serve as an ideal backdrop for a truly unique and memorable event.