Rows of linear green vineyards blossoming with grapes provide a natural backdrop to your wedding day. Whether it's your palate for the complexity of varietals or simply the love of nature, a Philadelphia wedding venue in a vineyard offers a serene setting in a country chic atmosphere.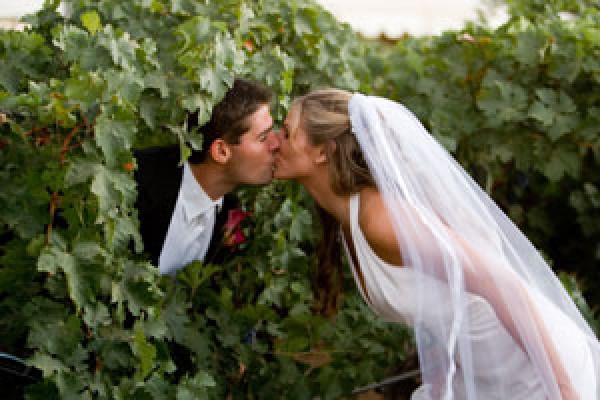 A wedding on a vineyard will make a lasting memory for you and your guests to celebrate the beginning of your life together. If you are planning a winery wedding in the Philadelphia area, here are five Philadelphia wedding venues certainly worth a toast.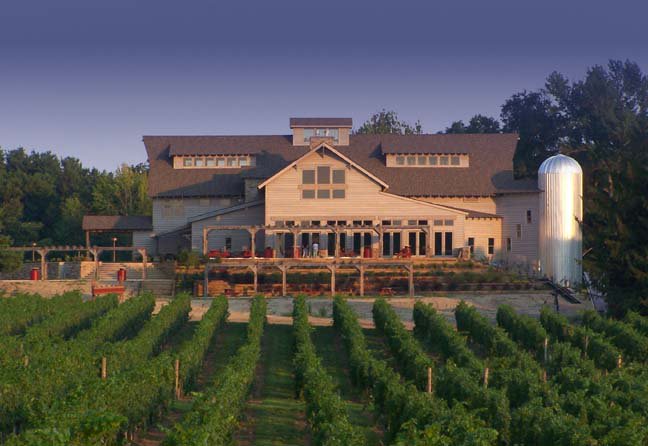 Photo courtesy of Laurita Winery
1. Laurita Winery
Laurita Winery, located in Central New Jersey, is where respect for wine and old world tradition meets state-of-the art architecture and agriculture. Situated on 40 acres of vineyards and 200 acres of natural vegetation and woodlands, the sustainable winery derives its energy through solar panels.
The venue has indoor and outdoor facilities that range on accommodating groups of 40 and up to 225 guests, depending which space you choose. However, utilizing their tents provide even more space for parties larger than 225. Indoor weddings are exclusively catered by Conroy Catering whereas outdoor receptions in the tented facility are handled by Branches Catering.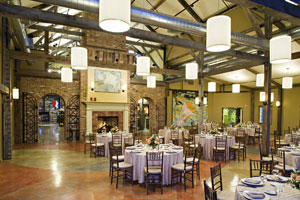 The Inn at Laurita Winery, formally a renovated farmhouse, now includes a relaxing healing spa. Indulging in a massage is certainly well-earned and is a notable amenity for out-of-town guests. The inn is adjacent to the vineyard as well as the nearby equestrian center where they offer horse-riding lessons and trail rides.
35 Archertown Road, New Egypt, NJ. (609) 887-1757.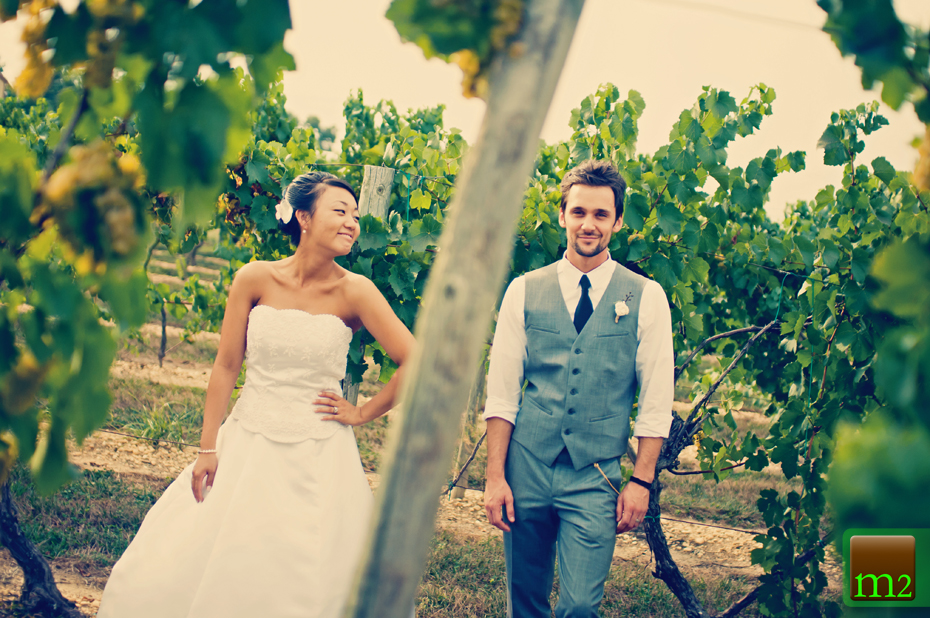 Photo courtesy of M2 Photography Location: Tomasello Winery
This South Jersey wedding venue, the 70-acre Tomasello Winery, is oldest family-run winery in the state. Established in 1933, the vineyard is now run by the Tomasello Family's third generation winemakers.
The vineyard features a courtyard lined with cobblestone, an arched gateway, and lattice gazebo. Its Vintner's Room is inspired by the French countryside with an interior comprised of cathedral ceilings, crystal chandeliers, and marble flooring. The room can host a seated reception for 50-180 guests. In addition, Tomasello Winery has an event consultant and services, if necessary, to ensure all aspects of the wedding run smoothly.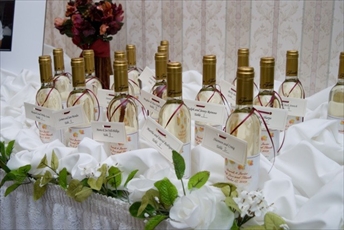 Photo courtesy of Tomasello Winery
In terms of wine, the vineyard has 30 different varieties of grapes and several kinds of fruit. Bottles include an array of white, red, rose, sparkling wine and several high-end, fruit-based dessert wines like cranberry, raspberry, blueberry-pomegranate and more. Couples looking to extend bottles of wine as party favors as guests depart are in luck. Tomasello offers custom labels to match any color or theme imaginable.
225 White Horse Pike, Hammonton, NJ (800) MMM-WINE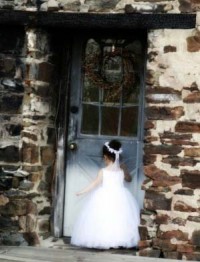 Photo courtesy of Rose Bank Winery
In Bucks County, Rose Bank Winery completed the construction of its new facility in November 2012. However, its manor house and carriage house date back to 1719 and 1720, respectively. It was a subdivision of land deeded by William Penn to his daughters.
Rose Bank Winery with its three event spaces has the right fit to meet your wedding reception needs. The Buckman Barn, built in 1835, has quite a history as it was struck by lightning and a portion burnt down several years ago. It was restored of course, offering a unique 2-story venue that can host up to 60 guests. The barn's large windows look out to farmland where Southdown Babydoll sheep graze.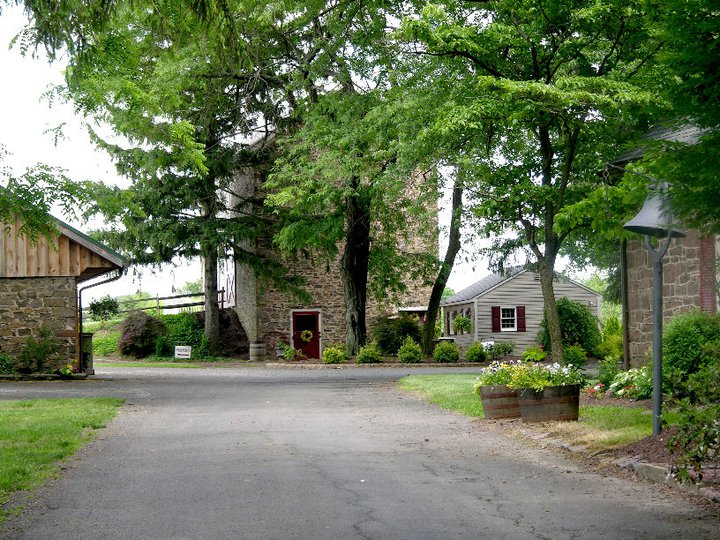 Photo courtesy of Rose Bank Winery
Additional event spaces include Vintner's Ballroom & Loft comprised of a large open space on the first level, upstairs loft and elevated outdoor deck. The winery, loft and elevated deck accommodate up to 300 guests whereas the barn allows for as many as 100 people. However, this area expands by utilizing the brick outdoor patio and second floor deck to create extra space for 150 guests. Finally, Rose Ballroom has a capacity of 200 guests.
258 Durham Rd., Newtown, Pa. 215-860-5899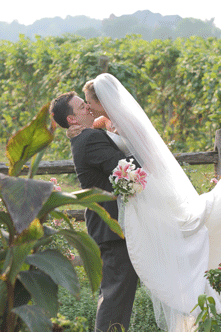 Photo courtesy of Cindy DeSau Photography Location: Crossing Vineyards
4. Crossing Vineyards Winery
Crossing Vineyards Winery is located in a 200 year-old estate in historic Bucks County. The venue fuses history with modern amenities.
Its European winery-inspired Barrel Room with its softly-lit passageway and intimate event space accommodates up to 30 guests for cocktails or 20 for dinner.
However, slightly larger groups will enjoy the Vineyard Room, a restored barn loft overlooking the Barrel Room. Its vantage point overlooks acres of vineyards. Inside the venue are vaulted ceilings, original hardwood floors and custom faux painted walls.
The Vistas, an outdoor tented space on the grounds has the largest capacity allowing ample room for up to 160 guests. Surrounded by ancient trees and foliage, this space is flexible to accommodate casual ceremonies as well as grand receptions. In addition, its ceremony site allows for seating up to 160 attendees. It is placed with the best views in mind, facing rows of vineyards with the ancient stone cottage in the background.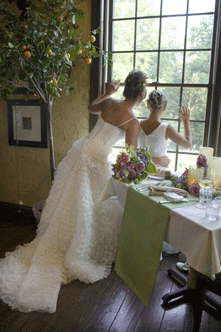 Photo courtesy of Cindy DeSau Photography Location: Crossing Vineyards
Crossing Vineyards also has an on-site wedding coordinator to assist with music, floral arrangements, photography or any needs the bridal party may have.
1853 Wrightstown Road, Newtown, Pa. (215) 493-6500.
Photo courtesy of Sand Castle Winery
A tree-lined drive welcomes your guests to the winery which is located on the banks of the Delaware River in historic Bucks County. The building with a facade and architechture reminiscent of a sand castle, is centered on 70 acres of vinifera grape vines. Windows of the Mountain View Room display dramatic views of the vineyard overlooking the river. Guests will enjoy a visit to the tasting room or a guided tour of the wine cellar.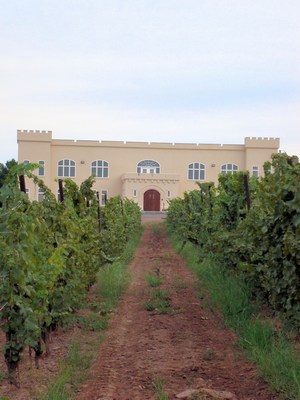 Photo courtesy of Sand Castle Winery
In addition, the site offers a state-of-the-art tented venue that is furnished with lush carpet, lighting treatments and boasts a vaulted ceiling. The venue accommodates 180 guests including dancing or 200 people without dancing.
755 River Road, Erwinna, PA. (215) 860-1859.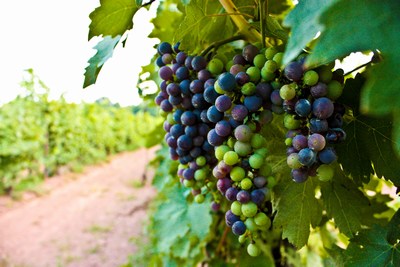 Photo courtesy of Sand Castle Winery