If you've wondered when to begin shopping for your wedding bands and what to engrave, we have some suggestions.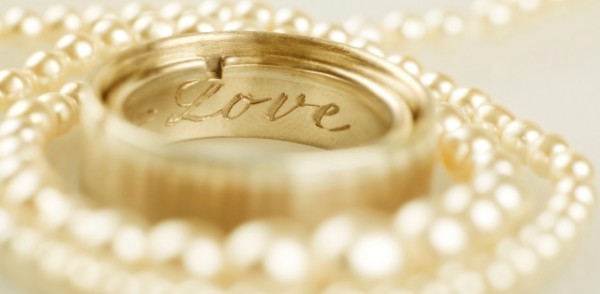 The man you love made the perfect proposal, or at least one that receives an "A" for effort, and slid a breathtaking halo engagement ring on your finger. Now it's time for the fun of planning the wedding to begin. A big piece of that planning is selecting wedding bands.

Start shopping for your bands at least three months before the wedding date so there's ample time to select and customize the set. This also leaves time to have your wedding band (and his) engraved to compliment, mirror, or complete what's said in yours. The engraving can be placed inside the band or outside if the band around the ring's stones allows. Your wedding band engraving can be anything you want, but if you're looking for some popular ideas, here are a few to get you started.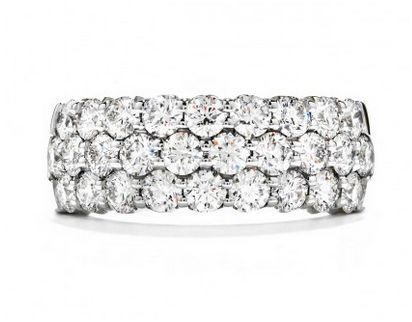 Photo credit: Benari Jewelers
Couples are getting creative in showing their love by placing special engraved messages in their rings. Usually, the message is engraved inside of the shank, but we have seen engraving around the perimeter of the stone (if the style of the band can accommodate that).

Basic
For generations, the engraving on wedding bands was the date and the couple's names or initials. This is still a good way to make the bands your own. If you have a forgetful mate, engraving the groom's wedding band gives him a handy place to find your anniversary date.

Sentimental
Having a wedding band engraved with sentimental words of love and affection is timeless and sweet. Some examples are:

"A perfect fit."
"Now that I have you..."
"Never to part."
"All my love."

There are also engravings like "always," "forever," and "eternity" that express your deep feelings for each other in a single, meaningful word.

Private story
Engraving your wedding bands with words that allude to a private story between you is a constant reminder of the important chapters in your life together. Recall romantically inclement weather that made for an unforgettable a date such as, "then it began to rain." Or honor a special time you like to be together like "watching the sunset," or "stargazers forever."

Humorous
This is by far the most fun way to engrave a wedding band. All relationships have their ups and downs but marking some of the best times with words on your wedding bands reminds you to always find the lighter side of situations. Popular humorous engravings include:

"Mine, mine, all mine!"
"As long as we have snacks."
"I love you more than chocolate."
"Put me back on!"
"We're not crazy; we're brave!"

Prices vary depending on the style of ring and the custom message. When you're ready to start shopping for wedding bands, visit Benari Jewelers online or come into one of our convenient locations, and we will help you create the perfect message to enjoy for years to come.