There are many factors to consider when choosing your wedding veil. Here is a guide to help you along in your planning.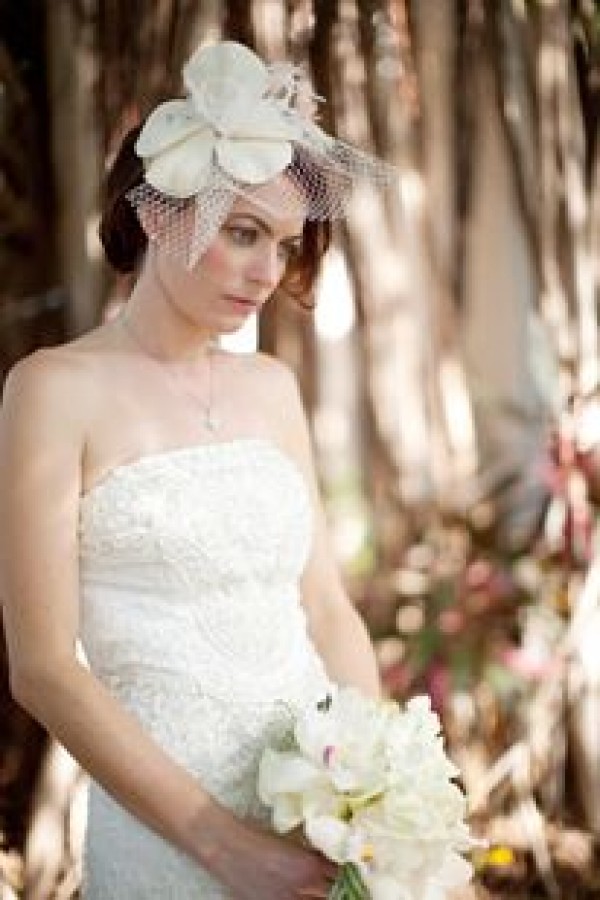 What is the rule of thumb when it comes to matching bridal veils to gowns?
Not matching! Coordinating and in a way that makes your bridal garb, ensemble seamless. When you are a bride, you coordinate--you don't match like you're at a child's 'Garanimals' store!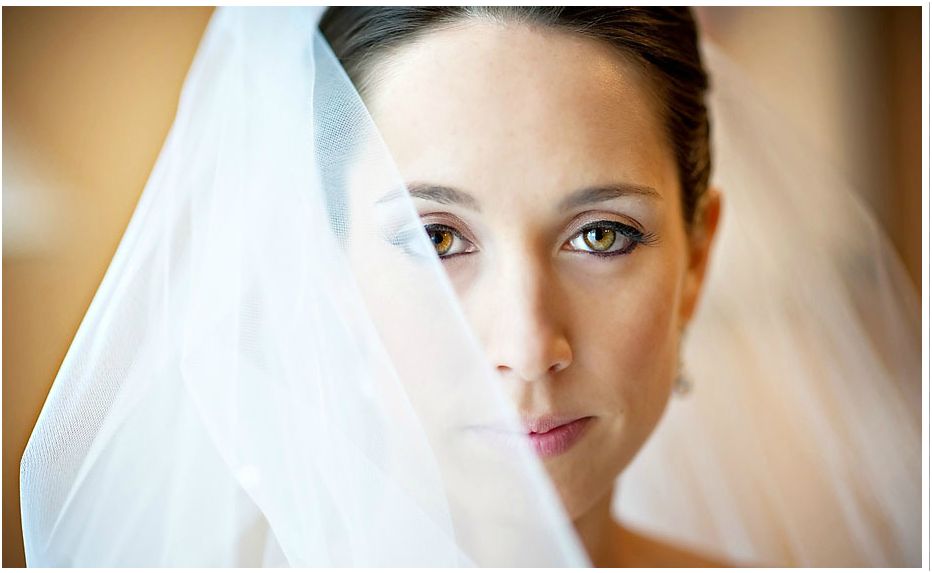 Photo credit: Joy Moody Photography
What dresses go well with long gowns and which with short veils—and bird cages?
As long as the proportions right in conjunction with your body type and your bridal dress or gown, then you can't go wrong. Veils come in many length choices (blusher, shoulder, elbow, waist, fingertip, chapel or cathedral), or can easily be manipulated to give you the best veil length to round off your bridal look.
*Things to consider:
Your height. Be sure to include any additional height added by your bridal heels!
Your body shape
The shape of your face
Your dress/gown's neckline, length and sleeve (if you have sleeves) style
Options! If it works, incorporate some color in your veil/headpiece choice!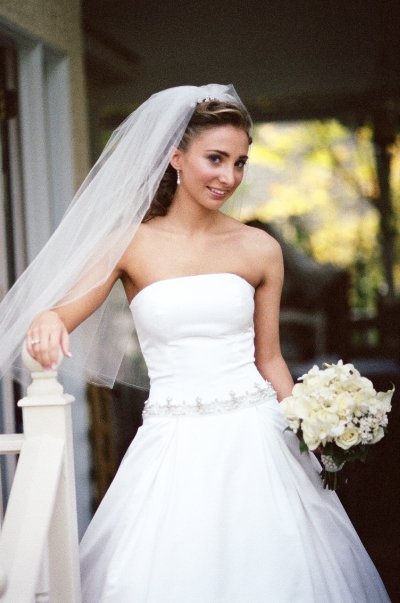 Photo credit: Littlewing Studio Photography
How do you match the embellishments on the dress to the right veil?
Is your bridal dress or gown already bedazzled out the 'wazoo'? You do not want to look like an overstated bride; all people will see is the bedazzled as opposed to the beautiful bride! I suggest taming your veil down. Start out simple! It is easier to add embellishments to a simple veil. Trust me, it is much harder to take away adornment from your veil, which is typically a delicate tulle fabric.
Your gown is more understated or even plain? No shame in plain, but you are a bride. Have fun with your veil and headdress. Find one that is easily removable or part of it is removable so you can wow down the aisle and then change/tone down your look up at the reception.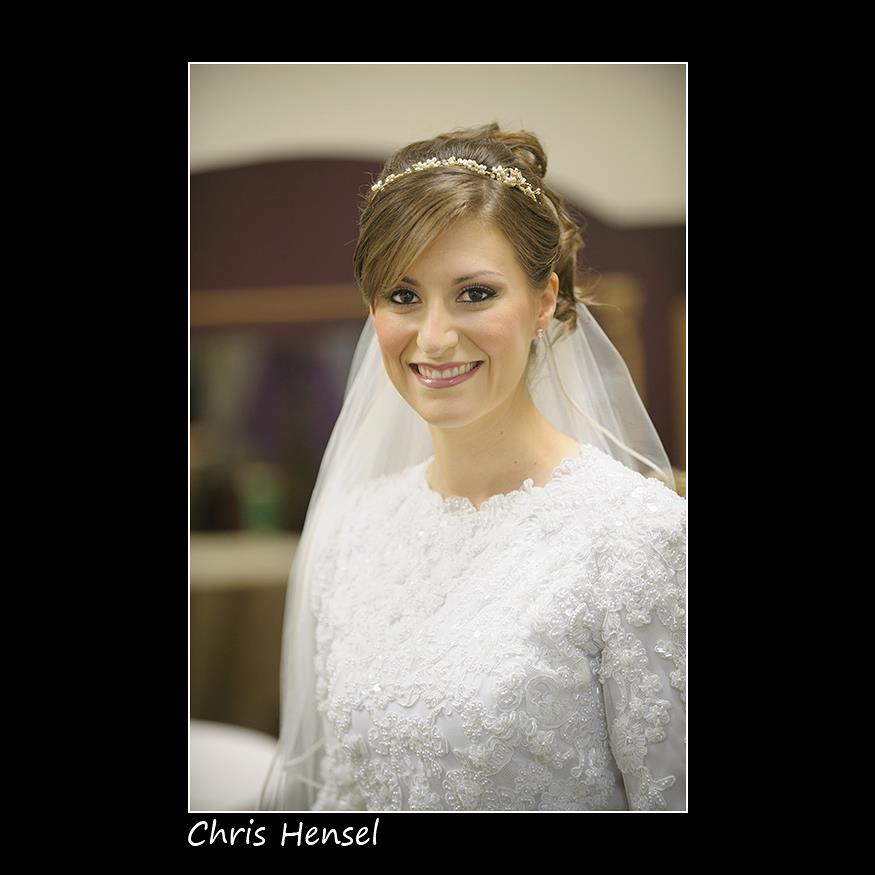 Photo credit: Chris Hensel Wedding Photojournalism
What would be a good example to choose as a 1920s hair accessory?
Exaggerated, flapper, art deco, Gatsby-esque, full on glam, makes an impression, confident bride, pow, beaded fringe, feather boas, feathers, sequins, crystals and more, more, more bridal head cover.
You can also nod and wink at the 1920s using the same list of decorations above. Just choose a few items you like best and go with a more understated 1920s look.
Whether you want a touch of 20s inspired head piece, veil look or jump in and shout 20s, there are many choices to consider. It may be overwhelming but if you break down your wants and your bridal look, (seriously break it down on paper 'Pros and Cons' style), it will help in your bridal headpiece hunt for sure!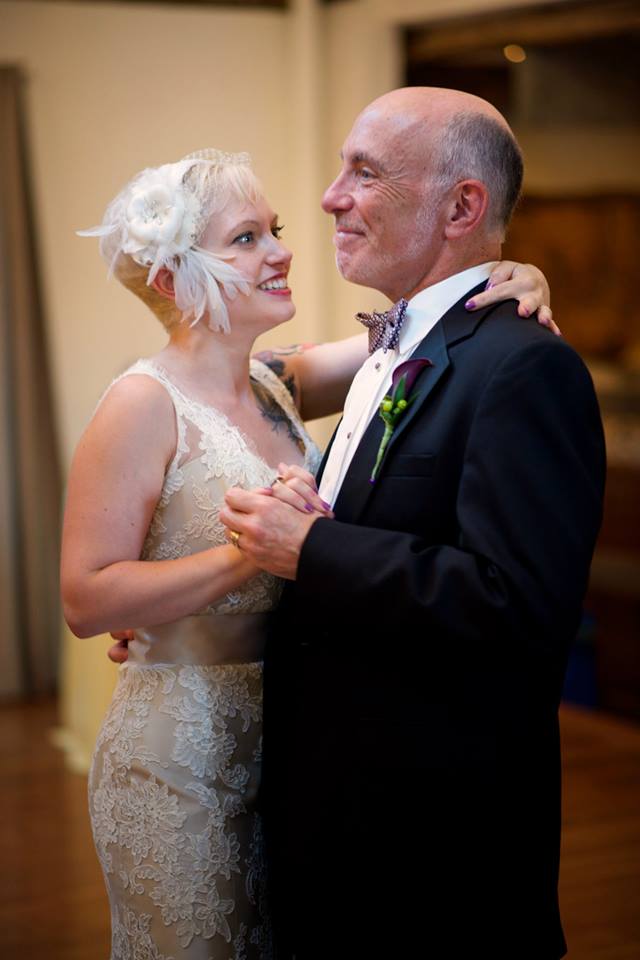 Photo credit: Casual Candids
When is it "too much?"
When the bride is drowning in her bridal look and all you see is the gown and headdress coming at you, it's overboard! That means you do not look like yourself and you will not feel like yourself on your big day. Your day means you should be an amazing version of yourself, not an over exaggerated, uncomfortable version.
If you start to get overwhelmed with any part of your bridal look, cannot find or you cannot make up your mind, STOP, and just go simple, simple, simple…You can add more later, or not!
Photo credit: Lindsay Docherty Photography
These beautiful wedding veil images were provided by Philadelphia area wedding photographers: Casual Candids, Chris Hensel Wedding Photojournalism, Joy Moody, Littlewing Studio Photography, Lindsay Docherty Photography and Bob Care Photography in South Florida (first photo).