Recently, we met with Colette Speakman, manager at Merion Tribute House.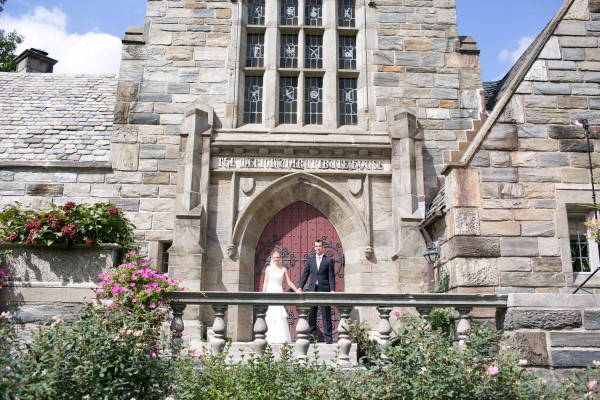 Photo credit: Merion Tribute House/George Street Photography
A historic Main Line wedding venue, located in Merion Station, Montgomery County. Come with us as we take you on a brief tour on what it's like to have an event here at this historic Arts & Crafts style Main Line venue.
Here you can see the beautiful grounds. You'll find a variety of hydrangeas, making it a beautiful spot for wedding ceremonies. You can choose to have it on the grounds or inside the ballroom. "Most people choose outdoors and we give people a variety of locations," Speakman said. "Some people like to face the building, others diagonal or away from it. There are a lot of spots to choose from—there are eight acres here so lots of trees and forest to look at," she said.
Up the steps, you'll find the slate terrace. This is the perfect spot for cocktail hour. You can have your guests mingle, have some cocktails while awaiting the bride and groom and their big arrival through the Gothic front doors.
As you can see, this area pops with color. It's vibrant and on a summer night when it's 70 degrees, for example, it's just beautiful. People who are more apt to converse with guests can come out here, relax and engage with friends and family and those who prefer to dance can go inside to the dancefloor in the ballroom.
"What's nice about the terrace is that it runs the full length of the building and the sun sets behind us and the tree back here so it's nice and shady for an evening reception."
The Gothic doors are enormous and are the perfect backdrop for photographers. They just love them. They are beautifully decorated with hand forged ironwork. When you enter inside, the first thing you see is Merion Tribute House's incredible Juliet balcony. When couples walk to the top, they can peer over the balcony for a champagne toast with your guests below. Also, it's a great way to say goodbye to guests or—throw the bouquet!
Still searching for the perfect Philadelphia wedding or event venue? Click here! Searching for event professionals? Click here!