It's one of the most important days of your life so you may be wondering if your make up will last from the moment you slip on your gown to the very last dance.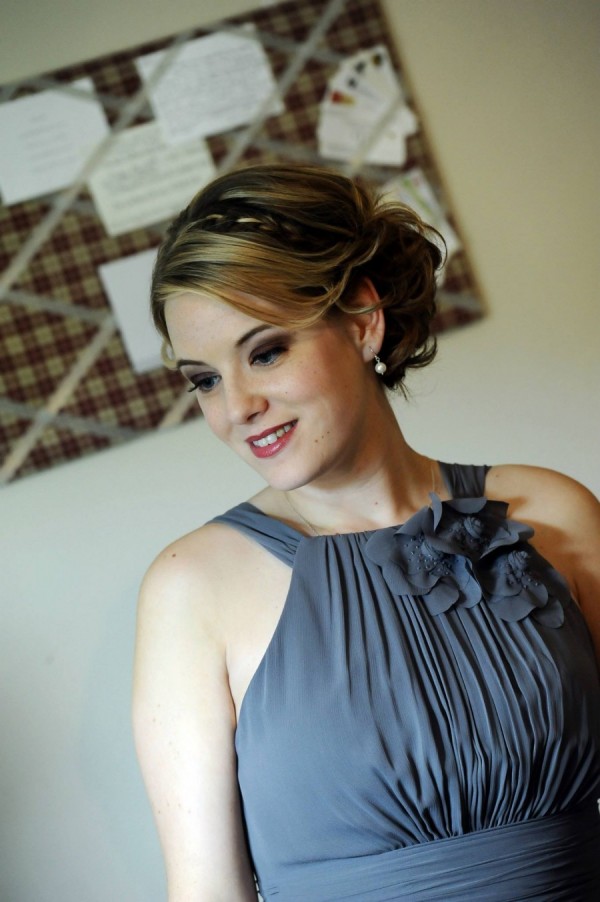 Photo credit: Blush & Brushes
Well, that can depend. How have you been treating your skin while planning your wedding?
Whether your makeup lasts all day has everything to do with your regular skincare routine and the pre-color (skincare immediately before makeup application) process. You should have a solid skincare routine for at least eight weeks before the wedding…and if you know what I know, you'll start working on your skin as soon as you get engaged! It takes your skin six to eight weeks to begin fully responding to a new regimen and to determine whether products are working. Additionally, the two-week period immediately before your wedding is not the time to try anything new UNLESS you're seeing a dermatologist who is injecting a cystic acne lesion! The problem with new products is that you can't anticipate an adverse reaction. If you do have such a reaction, you don't know how much time your skin will require to fully cover from irritation, itching, redness, etc.
How is it that the makeup application takes so long, but doesn't last all day?

Actually, if anything, it's the skincare part of the makeup process that takes up all the time, not the makeup! The makeup artist should be trying to figure what your skin's challenges are in order to choose the best products. Skin type is a consideration from prep products to the type of foundation used on your skin. For example, if you're getting airbrush makeup, there's water-based and silicone based for the face and they have different effects on the skin. The makeup artist has to decide, based on how oily or how dry your skin is, which foundation and which skincare products to use to achieve long-lasting beauty.
Meanwhile, all of this has to be done in light of the look you want…The person with extremely oily skin and a history of cystic acne wants a matte look; however, they don't have an effective oil-reducing skincare routine. This means the products have to work harder and a conversation must be had about realistic expectations. Critical components of the pre-makeup process tend to include the following: primers, oil control products, rich emollients, antiperspirants, and the like. Some of these products must be applied in a particular order and require drying time between steps to allow for greater product absorption. Ultimately, it's the skin prep process that takes the greatest amount of time because it is the foundation of a bridal look that lasts all day!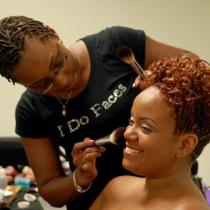 Photo credit: Blush & Brushes
Makeup Defense Tools:

Although your makeup artist will use many tools like waterproof mascara and waterproof eyeliners to get you through the tears and emotions of your day, you will likely need a few tools to get you through the day, particularly, if you are not hiring your beauty professional to spend the entire day with you.
Oily & Normal to Oily Combination Skin

Extremely Dry Skin

Normal skin

Oil Absorbing PowerOil absorbing powder is not the same as setting powder or foundation powder. Oil absorbing powder does not add more coverage. When a product that adds more coverage is used, the makeup may begin to appear thick and cakey.

Refreshing Mist will help to make tight skin feel more comfortable. It is important that the product be sprayed several inches away from the face. If not, it will create blotches in your foundation. glo Professionals has a light product called Moist Hydration Mist that adds moisture, dries quickly, and doesn't leave the skin greasy. Finally, refreshing mist is NOT the same thing as plain water. Stay away from plain water as it can make dry skin drier.

Normal skin should not require a lot of touching up. To be on the safe side, however, I would recommend blotting tissues. Because weddings can be stressful, a "normal skin bride" may be a little oily. In this instance, blotting tissues should be sufficient.

Lip color: No matter what type of lip product you use, the glossier the product, the more frequently you'll need to reapply it. Lipsticks and lipstains last much longer. In addition to these, there are even more options.

Handkerchiefs: If there is any chance that you will sweat, have a handkerchief handy (ask your bridesmaids get one embroidered for you as a keepsake)! The beauty of the handkerchief is that it allows you to avoid lint! Paper towels and certain tissues leave little pieces of tissues behind. Finally, when you sweat, dab your skin! Rubbing will smear your makeup!
The Beauty of the Pre-Wedding Trial:

Finally, I recommend that a bride schedule her pre-wedding trial on day when she is going out on the town. In my mind, I'm hoping she'll dance a little, have a couple glasses of wine, kiss her s/o, and then take note of what her skin looks like at the end of the evening! Although your makeup artist can tweak your look so that it is appropriate for the time of day that you'll be going out, the skin prep should be similar. Thus, you should have a pretty good idea of what to expect.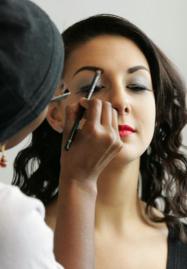 Photo credit: Blush & Brushes
Evenso, there could still be some differences. For example, you book your pre-wedding trial in late winter and your wedding is in late fall which likely means different skin prep: it happens. By no means am I saying that you should cut it close by waiting to the last-minute to book your makeup artist! Rather, I am saying that a trial gives you an idea of what your makeup artist is capable of. Further, you should take note of how your face looks at the end of the day because it will tell you whether your makeup worked for the time and elements of that particular day. If a makeup artist can make your winter parched skin look supple in January (there's more to it than applying lotion!), there's a good chance "Ms. Lipstick" will have something up her sleeve in August!