Are you struggling with how much media to allow for your big day? Read on for our pros and cons on "Unplugged" and "Plugged In" weddings.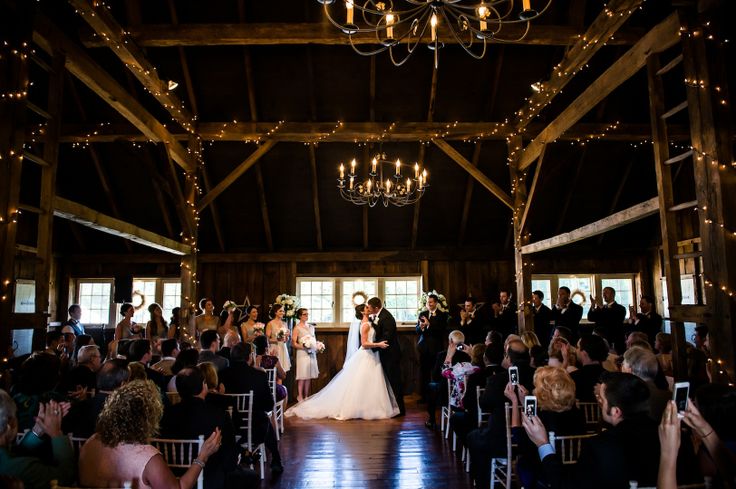 If you haven't yet heard of the phenomena called the "unplugged" wedding, odds are you'll soon attend a wedding featuring this new trend. These days, more and more weddings are choosing to have this theme as part of their big day. For those of you that this might be new to, an unplugged wedding is one in which electronics are "unplugged", meaning the guests are asked and/or told to refrain from taking photos or video, most often during the ceremony, but sometimes throughout the entire day. This has become fairly popular in recent years, while the other side of the spectrum, the "plugged in" wedding, has also managed to rise in popularity. The plugged in wedding is one in which photos by guests are not only allowed, but encouraged.
Both sides of this debate have legitimate arguments. If you've been struggling with what to do for your own wedding, see some of the differences between these two below, and pick the one that best works for you!
Unplugged | Your guests will be paying attention. Instead of watching through their phone, they'll be seeing each moment with no distractions. When the bride is coming down the aisle, they won't be vying for the best angle or the best shot. They'll be focused on watching her and quite possibly shed a few tears. When the time comes for the bride and groom to kiss, nobody will be rustling around in their purse for their phone, or even worse, their iPad. They'll be enjoying the moment right alongside you.
Plugged In |After the wedding's over, you'll get to the hotel or airport and (I promise you) you'll want to see photos. You'll log on to Facebook or Instagram and hope that your friends have taken the time to upload some photos.  Those hoping for the "plugged in" wedding will sometimes post a specific hash tag for guests to use for each photograph as an encouragement to not only post photos, but do so in a manner that's easily accessible following the wedding. In the included photo, Nicole and Nate were married in a beautiful ceremony in the Manor Barn. On the right side, you can see quite a few phones being used to capture that magic moment. The couple had their very own hash tag on Instagram and had just about one hundred photos uploaded from their wedding almost immediately!
Unplugged |  The Groom is not supposed to see the bride until their moment - whether it be the pre-arranged first look or when she walks down the aisle. It's sad how many "first looks" have leaked before the groom even sees the bride because of social media. Sometimes, a nervous groom logs on to Facebook while killing time before the ceremony. Bridesmaids or guests who see the bride prior to the ceremony upload their photos - forgetting that one very important person has yet to see her, and consequently, their big moment is affected. Rather than risk this, the unplugged couples skip the amateur photos and stick with having only professional pictures taken before the ceremony.
Plugged In | For guests who aren't able to attend your wedding, photos shared on social media are a way for them to instantly see the events of the day. When couples allow guests to take photos, and specifically include a special hashtag for them to use, those who are not at the wedding or those who may miss the special moments - the kiss, the first dance, the cake cutting - can see and appreciate the opportunity to feel like they were there.
Unplugged | Your photographer won't have to fight your guests threatening to ruin the photo. I've seen weddings where so many of the guests are busy taking photos that they forget that someone was paid to do it! They end up getting in the way of the professionals, throwing their arms and hands in front of the lens, or simply being distracting with how high or far out they're holding their devices. Sometimes, they lean so far into the aisle that they obstruct the views of the pros! There's no denying that the professionals (the photographer and videographer) will have an easier time at your ceremony when your guests are unplugged.
Plugged In | There's something to be said for candid photos. When you allow or even encourage your guests to take photos during your wedding, you'll find yourself looking at them after the fact and laughing at things you didn't even know happened while you were off getting your posed photos or chatting it up during your receiving line. Unfortunately, you aren't able to see everything that happens throughout your day.  As a result, some people say the more photos, the better.
If while reading through the above reasons you find you fall somewhere in the middle, consider asking for no phone use during the ceremony, while encouraging guests to break them out once the ceremony's concluded. There are so many decisions to make while wedding planning - the dress, the food, the must-have photos - don't let something like unplugged vs. plugged in stress you out. At the end of the day, whether the photos are from your guests or your photographer, you'll be married and ready to start your lives as Mr. and Mrs.!
 If you would more information on having your wedding or event at Brandywine Manor House, call or email us today at info@brandywinemanorhouse.com or 610.942.2200.
Photo by Morby Photography