We have a hunch that if you've found your way to this blog, there's a good chance that you are already familiar with the delights of Afternoon Tea. The wonderful special-occasion feeling that permeates this tradition will translate beautifully to your bridal shower event.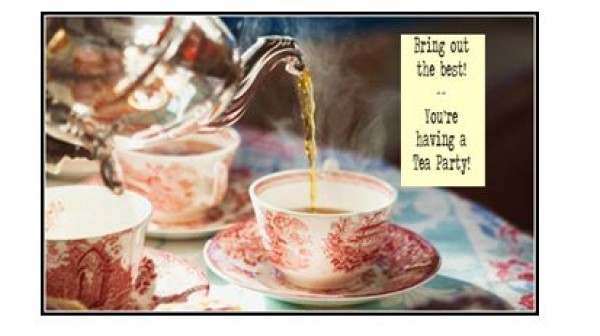 Once you've decided on a tea-themed shower, the question is: where will you hold it? Will you make reservations for your group at a local tea room, or will you have an at-home tea party event?
Second only to the decision regarding venue, organizing a tea-themed bridal shower (like any other bridal shower) begins with the selection of invitations. There are so many options, ranging from purchasing online from somewhere like zazzle.com, to purchasing handmade invitations from a dedicated crafter on Etsy.com, or even to designing your own.
Whatever your source and selected style, the invitation should clearly convey that it is a tea-themed shower, and what is desired of the guest. The example pictured here shows a handmade "teabag" invitation, complete with tea-tag, and enclosed in a lovely vintage-styled decorated envelope. The invitation requests that, if possible, the guest arrive wearing a brooch or beautiful hat. This invitation was designed by Projects by Barb in Perry, FL. Have fun perusing all the possibilities! Choose your invitations, and set the tone for your event.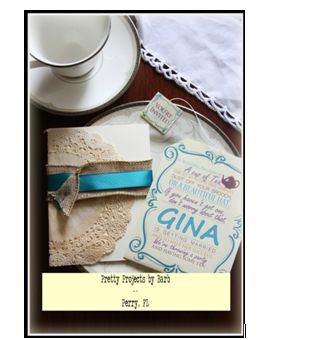 Photo credit: Projects by Barb
A traditional Afternoon Tea is a light meal (typically served mid-afternoon) comprised of three basic parts. In addition to the tea itself, a variety of tea sandwiches and other savories, scones, and a selection of small pastries and light desserts are served. Some are confused as to the distinction between "Afternoon Tea" and "High Tea." Historically, "High Tea" was a more substantial meal and would include at least one entrée. These days, however, at least here in the United States -- "High Tea" is largely synonymous with "Afternoon Tea" and consists of lighter fare. The Duchess of Bedford's practical desire to bridge the gap between luncheon and supper established the Afternoon Teatime tradition, in about 1840 England. It was, and continues to be, a splendid idea – best enjoyed amongst friends!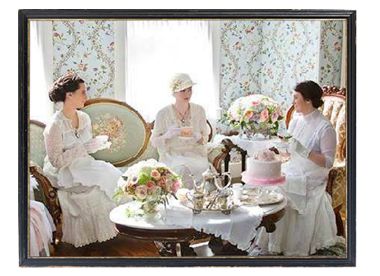 Photo credit: Pinterest
Pictured here are a variety of tea sandwich types, including the classic cucumber and cream cheese, smoked salmon, and curried egg, to name a few. Other interesting fillings we've enjoyed are: cheddar and chutney, chicken and almond, and cheese with walnut and pear. Sounds pretty good, right? The possibilities are endless, and an online search will get you all the recipes you need. Remember that the hallmark of tea sandwiches is that they're small, dainty, crustless, and delicious. Beyond all this, the sandwich platter is made even more interesting by the different shapes in which these appetizing treats are cut and presented. This photo demonstrates just some of many options, and includes additional savory items.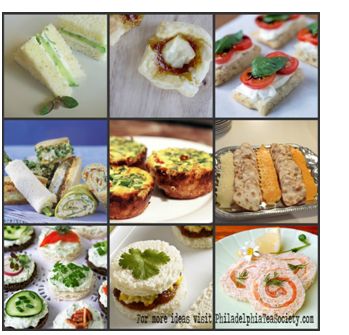 Photo credit: Pinterest
Scones may be of different flavors and served with butter and jam. You may have heard of the term "cream tea" – this refers to tea and scones served with clotted cream and jam. If you intend to bake your own scones (and why not give it a try?) they should be freshly baked on the day of the party. There are many scone recipes available, and we're always on the lookout for the best recipes to try. Pictured here is a lavender-flavored scone with lovely little jars each of clotted cream, lemon curd, and raspberry preserves -- as served at A Taste of Britain (Wayne, PA).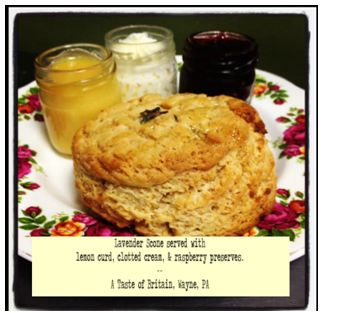 Photo credit: A Taste of Britain
Finally, there are the pastries and other sweet delights! Here pictured are a variety of possible dessert treats that you might serve, in some configuration, at your tea party. You'll want to have a number of different selections. Consider various shortbreads and other cookies, brownie bites, macarons, and of course the quintessential tea party favorite: petit fours. A mixed-berry trifle, strawberry shortcake, a Victoria sponge cake – any of these would make a delicious and attractive addition. Small dishes of nuts and candy at the table will round things out. Order some goodies from your local bakery, if needed. We like the Art of Bread (Narberth, PA) and the Night Kitchen Bakery (Chestnut Hill, PA).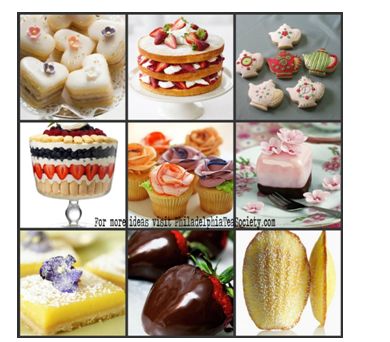 Photo credit: Pinterest
Now, let's not forget the tea portion of the tea party menu. Do your best to have a variety of loose leaf teas from which your guests can choose. In this fast-paced hectic lifestyle, we routinely rely on bagged teas while on-the-go. Choose loose teas for your event to make it all the more special. Take the time to make and enjoy the tea, as well as one another's company.
Also, consider how you will serve the tea. Recently, we attended a tea party at which the hostess had set up a "tea station" right in her beautiful kitchen. It was here that each guest brought in her individual teapot (selected from a variety of different colors provided by the hostess), and made her tea selection from a number of tea flavors available. The kettle was at an every-ready boil, and the hot water added to each teapot set the teas to brew. The "tea station" idea offers a nice opportunity for guests who might not know each other to have a little chat over the tea selection process. It's a great way to break the ice, and learn how each guest is connected to the bride-to-be.
Our hostess purchased a "loose leaf starter kit", from Premium Steap, right here in Philadelphia, PA. Along with this tea sampler, she also purchased a few full-sized tea packages -- including the ever-popular Earl Grey. There were even some exotic choices, like Chocolate Coconut, for example. Do offer as part of your selection of teas at least one decaffeinated black tea, as well as an herbal tea (aka "tisane") option. If the weather is warm, you may also wish to offer an iced tea. Be sure to have enough tea strainers on hand!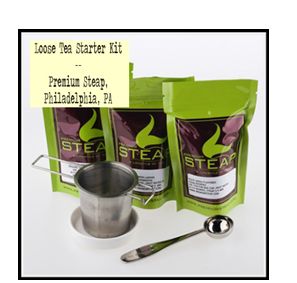 Photo credit: Premium Steap
Once you've settled on your menu, you'll want to consider whether you have enough component serving pieces for your tea party. We're big fans of pulling out from boxes and cabinets (or wherever you store the things you've collected!), the nice items that you have….but never really use. We're here to tell you: Use them!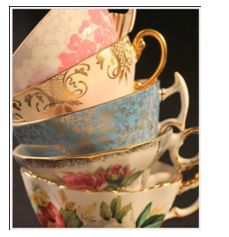 Photo credit: Pinterest
Don't worry if things don't match; they don't have to. In fact, it's much more visually interesting to have a variety of different patterns and pieces to adorn your tea party table. If you don't have enough pretty cups and saucers, head out to a local thrift store, flea market or discount store. You'll be surprised at the great antique and "shabby chic" items you will find.
Here photographed are some examples of how you might present your tea and tea treats.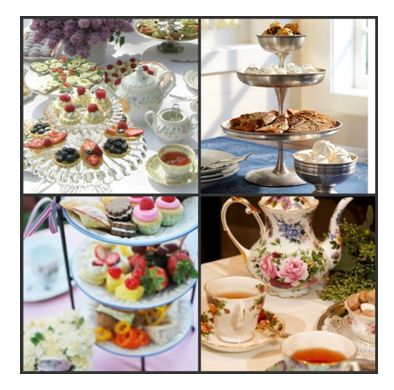 Photo credit: Pinterest
If you don't have enough of your Grandma's antique china or her silver tea service, and don't necessarily wish to purchase what you don't have – consider pooling resources with your friends. This option also provides an easy means of adding interest to your table (as mentioned earlier) by not having everything matching, per se. Your tea table will be made even more marvelous by adding some fancy linens, and decorations that incorporate the tea theme. Vintage tea tins and teacups filled with flowers? It's a great idea, and your guests will love it.

Photo credit: Pinterest
A nice tradition at bridal showers is for guests to share their favorite or "best" recipes with the bride-to-be. Continue the tea theme with great vintage-style recipe cards, such as those pictured here, with an old-fashioned teapot motif. These recipe cards were designed by Fabulous Finds Boutique (Killeen,TX).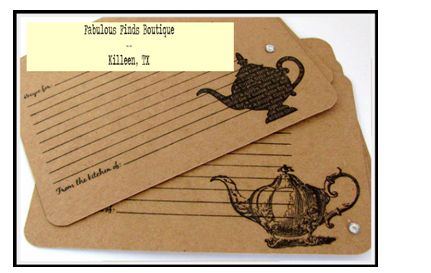 Photo credit: Fabulous Finds Boutique
Games are another traditional bridal shower activity, and again, tying in the tea theme is ideal. An online search for "tea party games" will yield a number of ideas. Guests can engage in light competition to "win" various prizes. Examples of games we found include: tea bingo (with teapot cut-out as board), tea-related word search puzzles, tea trivia quizzes, and even a race to write as many words that begin with the letter "T" as one can in two minutes. There are printable versions of some of these available online. Another idea is to have a tea-tasting type of contest in which various unlabelled teas would be sampled and guests would try to identify the names of the teas. A variation of this would be to have guests examine unlabelled loose teas and guess (based on the look, feel and scent) which teas they are. Any guest who "wins" a game should receive a small prize or gift.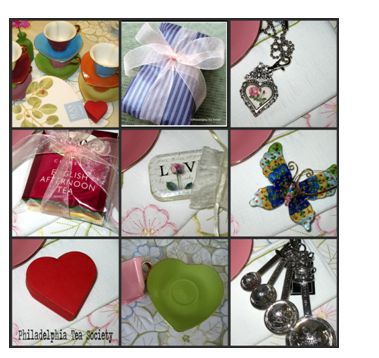 Photo credit: Philadelphia Tea Society
Speaking of gifts, it is also traditional to have party favors for your guests. There are so many options available. Here are a series of photos demonstrating some ideas for possible party favors, and include some that we have given and received over the years. Again, try to incorporate the tea theme if possible. Some ideas include: gifts of tea with ribbons, a pretty cup and saucer set, and measuring spoons with a teapot motif.
Here are some delectable party favors made by Sugarplum Tea Sweets (Fairless Hills, PA).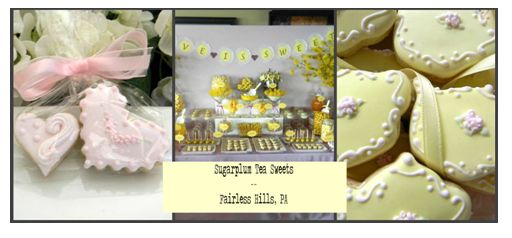 Photo credit: Sugarplum Tea Sweets
For any bridal shower, you can't go wrong with love-themed party favors, such as heart-shaped ornaments and trinket boxes. This heart-shaped necklace is from The Vintage Heart (Rockledge, PA).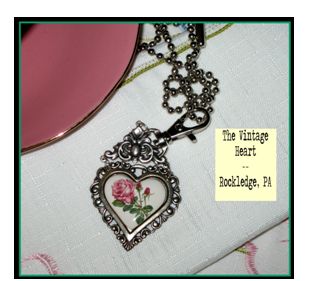 Photo credit: Philadelphia Tea Society
Small frames with love quotes make very sweet party favors. The ones pictured here feature the beautiful handiwork of Amy Wilson Calligraphy (Philadelphia, PA).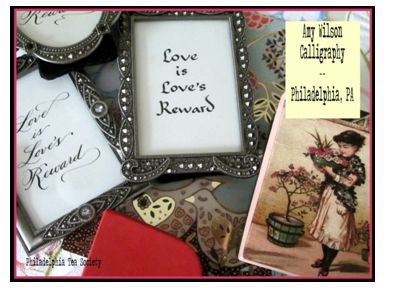 Photo credit: Philadelphia Tea Society
Having read through to this point, if you are at all uncertain about whether you can "pull off" this bridal shower tea party on your own, consider a couple of other options. Again, on the note of "pooling resources," think about dividing up responsibility for the various aspects of the event amongst your friends. If you're comfortable doing so, make it more of a pot-luck style, and designate a dish for each person to bring. One of the things we find lovely about Afternoon Tea, is that you can really make it happen any way you like, and still make it special!
You might decide to have your event (partially or fully) catered, and just concentrate on the invitations, decorations, and party favors. Another option, which is quite popular, is to have your event at a local tearoom at which you have reserved space in advance.
Think about your budget, and whether you're going for a more formal feel or something elegant yet cozy. Afternoon Tea at some area hotels will be pricier, but will offer a more formal atmosphere and service. The Mary Cassatt Tea Room at the Rittenhouse Hotel is always wonderful, as is tea at the Four Seasons Hotel. Both are located in Center City, Philadelphia. Contact such venues well in advance for reservations, and to make sure that they can accommodate your group.
We recently visited two suburban tearooms and thought they would be perfect for a small-group tea party. A Taste of Britain (Wayne, PA) - they also do catering - and The Painted Teacup (Upper Darby, PA) are both quite conducive to a small-scale bridal shower tea.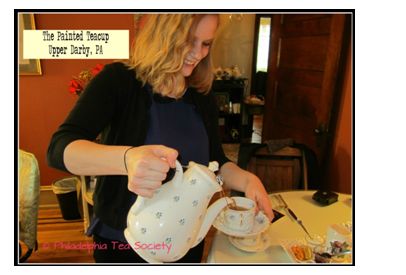 Photo credit: Philadelphia Tea Society
In the end, regardless of venue -- whether it's a local tea room, a catered affair, or a do-it-yourself tea party event, celebrating the bride-to-be is what matters most. The main focus of the shower is to give the bride-to-be a wonderful tea-time experience with her closest friends and relatives, and to provide her with gifts that will help make her house a home. Have fun with the process, and do wear your brooches, hats and gloves! Bring out the best of what you have for your special tea party event. Enjoy yourselves, and make sure that there's a lovely new teapot amongst the shower gifts!

Photo credit: Pinterest
All the best,
~ Philadelphia Tea Society