Bridal shows in the Philadelphia area provide engaged couples the opportunity to meet event professionals in person, sample delicious menu items and see the latest in wedding fashion and entertainment. Tips from industry experts, wedding makeup or hair trials and cake tastings are just a few of the many exciting aspects of bridal shows.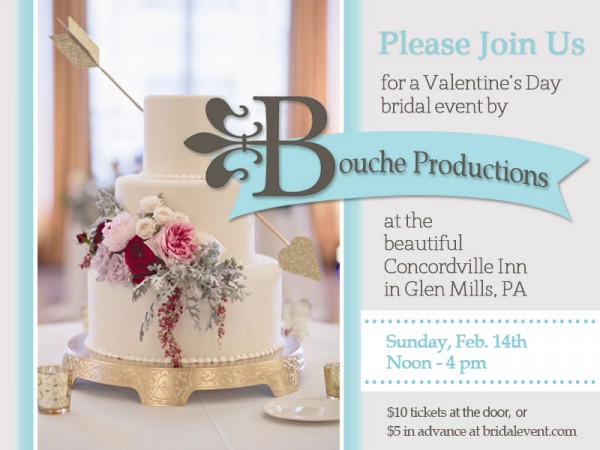 The Bridal Event by Bouche Productions has been partnering with great wedding venues in Delaware County, Philadelphia and New Jersey like this one at Concordville Inn for more than 15 years. These are fun, quality events that brides, grooms and couples love, and everyone is talking about! This is its fifth consecutive year back at Concordville Inn!
Experience this fantastic event with the following:
Amazing food
Signature cocktails and wedding cake tastings
Free wedding magazines
Gorgeous gowns and designer tuxes
Dozens of local wedding professionals to meet
Big discounts and incentives
Free on-site makeovers and hair trials
And win impressive prizes!
All that, combined with great advice and creative ideas to get your wedding planning in Delaware County inspired! This is one show not to be missed. So much to see and do at this event!
Tickets cost $10 at the door, but just $5 in advance.
Concordville Inn is located on Route 322 and Route 1 in Concordville, Delaware County, PA.