What are the latest trends in gowns and weddings this year? We turned to one of our favorite experts, Pattie Lamantia, Owner of The Wedding Shoppe to find out! Here is what she had to say!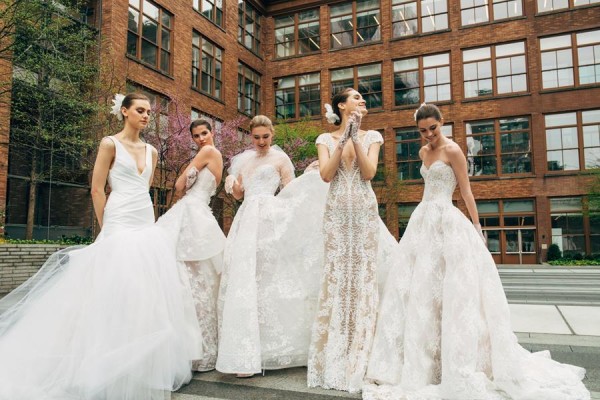 Bridal Season….is now truly all year round. June is not the big Bridal Month as in years past. The millennial couples consider Honeymoon spots, type of venue and overall feeling they want for the wedding day in deciding when to set their date. City weddings, barn venues and warehouse event spaces are the most popular now over the traditional country club setting. The city of Philadelphia is HOT now, even as a destination site for many couples. These couples are of the Foodie Generation!! Specialty signature drinks are a must at their event over traditional champagne.
Bridal gowns have also become seasonless. Strapless, sleeveless and even long sleeves are by request not by season. It's the style that rules the final decision. We see many brides that choose not to have strapless just because all their friends who married recently have worn that silhouette. Designers offer all shapes, all different necklines and fabric choices that are available to the brides to be all year, as do couture bridal salons. I can honestly say I do not purchase a gown that I don't like for The Wedding Shoppe. I keep in mind the latest trends, figure differences and a variety of price points.
Social media seems to be #1 platform for the brides search for the latest collections and styles. It is rare to have a bride shop and not take photos of herself in the variety of styles. It does get frustrating to bridal stylist as it limits the time that they can spend showing their client the many gowns their salon has to offer, but this is the new shopping trend and it is not going away.
Follow up with the bride has also moved in a new direction. Texting is the # 1 way to get a reply from the brides and to follow up with them or invite them to upcoming events and confirm appointments.
Most brides educate themselves prior to shopping in salons. Online purchasing has hurt many brick and mortar shops but bridal shopping is all about the experience. Almost all brides need the service of alterations, pressing and other details that qualified salons like ours, The Wedding Shoppe, can offer. With ordering time being 4-6 months out the customer becomes a part of the salons family, especially at individual owned shops, where the owner is hands on.
It is easy today to research for top rated vendors in your area and put your dollars where it is most comfortable as the paying customer. Vendors are well aware of this generation rating them on many social media platforms.
Weddings are still big business but it is one of the areas that word of mouth means more that any advertising blitz. Most Philadelphia wedding vendors today are in this business because they love it and care about each and every wedding they are a part of. Trust between both parties is invaluable, as deposits are given many months in advance. The planning experience is part of the entire wedding memory. Our goal at The Wedding Shoppe is to meet all of their dreams!
Pattie Lamantia, Owner, The Wedding Shoppe
503 West Lancaster Ave. Suite 110 Wayne, PA 19087
Phone: 610.293.1299
Email: pattie@wedding-shoppe.com