The process of planning a wedding in Philadelphia can be a joy to some and a challenge for others. The amount of detail and effort that is required can only be compared to the effort needed to purchase a home or complete a thesis paper in a Master's Degree program. Simply put, a wedding can fill the role of both extreme happiness and extreme frustration. However, the key to alleviating the frustration may be found in a song that will provide a moment – and a memory – that may only happen once in a lifetime.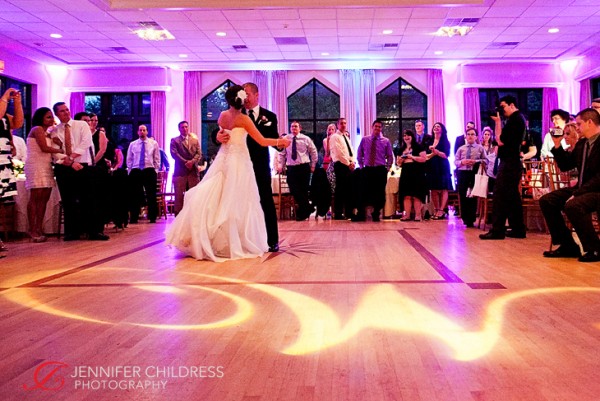 Photo credit: Jennifer Childress Photography
As a professional wedding disc jockey with Cutting Edge Entertainment, my focus has always been to provide a soundtrack that supports the emotions that a couple will experience during their wedding day. Developing a unique playlist for each wedding is a collaborative effort. This is a project that should be shared between both the couple and their chosen entertainer. For over a decade, I have been lucky enough to guide clients and assist them in picking music that suits them and their crowd. The singular moment that I mentioned earlier usually falls between the "grand introductions" and the "toasts". This moment, of course, is the first dance shared between our newlyweds.
Although much of the music that is selected for a wedding is designed to engage your guests, this is a moment that is only for the two people under the spotlight. Another year passes and more songs are lost in time. Another year passes and more songs are lost in the shuffle (figuratively and literally!). The majority of the songs selected for the "first dance" are chosen to be timeless and recognizable by most guests. However, the past year –or so- has provided an influx of new music that could prove to stand the test of time.
Picking the perfect song is something that should be felt, not simply heard.
Some songs that have broken through over the past 18 months for weddings in the Philadelphia area are…
"All of Me", by John Legend – This became the go-to "first dance" song for 2014. It did not take long for this track to go from "solid R&B ballad" to "love song standard".
"Unconditionally", by Katy Perry – Ms. Perry has never been known as someone who could belt out a classy love song, but this song changed all that. A song about unending and undying love that can lead any newlyweds through the toughest of times.
"Lucky", by Jason Mraz & Colbie Caillat – Although this is a song that may be a few years older than the previous ones it was resurrected more than once in 2014. The person you are marrying should be your best friend and this song tells the entire story.
"XO", by Beyonce – This may be one of the few songs that has the video to match. Based in the Coney Island amusement park, the song describes the rollercoaster feeling that comes from true love.
"Thinking Out Loud", by Ed Sheeran – This song will likely become the "it"-song of 2015, but it was released near the end of 2014. I had the honor of using it at a wedding that closed what would be one of my favorite years in the industry.
I am also one of the lucky ones who met the love of his life not too long ago. Selecting my own "first dance" song wasn't a tough decision, but it also wasn't taken lightly. The lyrics of the song became my biggest priority, because this song would carry the weight of a moment that I had waited my entire life for. "I Won't Give Up", by Jason Mraz was our choice and it's one that brings my wife and I back to the core. Mraz carefully plucks his guitar and sings about how life will bring challenges, agreeing that most relationships will have roadblocks that can only be conquered as a team. This became the mantra for our entire marriage and it will not fail us.
It would be too simple to select "I Won't Give Up" as my all-time favorite "first dance" song. For that distinction I'm stuck between a timeless classic and a recent addition. "At Last", by Etta James, is a song that will never – NEVER – grow old. Sweet, romantic and short (less than 2.5 minutes), it truly shares the excitement you feel when you finally find that "someone". The recent addition is "A Thousand Years", by Christina Perri, a song that intend on suggesting for years to come.
If our lives are a collection of random moments that are sewn together, than it is important to celebrate each of those moments. Picking the right music to accompany those moments can give each moment even greater meaning.
Most songs can say the words better than you or I ever could hope. It's rhythmic-poetry at its finest.