There are many things to consider when planning a waterfront wedding - of course, the most important being inclement weather plans.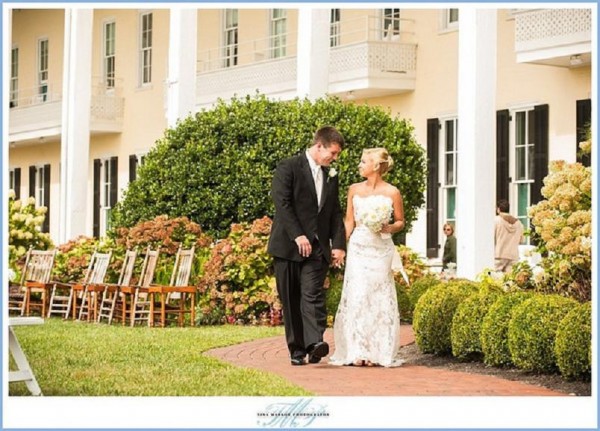 For that reason (among others), here at Congress Hall, we have 4 beautiful locations to host your ceremony; The Cape May Beach, The Congress Hall Grand Lawn overlooking the Atlantic Ocean, Congress Hall's Veranda or Our Grand Ballroom.

Another factor to consider in the planning process is who will be setting up the ceremony for you. Weddings become stressful when you add in the logistic of setup and breakdown as well as transportation for your guests. Our venue offers a full service planning team who will coordinate and execute the setup and breakdown of your wedding ceremony including the chairs, sound system and garden arbor. All ceremony options are located on the Congress Hall grounds so you don't have to worry about the transportation element which can add additional cost and stress!

For those who are interested in a Jersey Shore beach ceremony, we always ask our couples to think about their guests who will be attending the ceremony. A beach ceremony sounds like a beautiful idea but it has its negatives. For instance, it may difficult for some guests to walk in the sand, eliminating their ability to attend the ceremony. Wedding Ceremonies on our Grand Lawn are the best of both worlds. Your guests can enjoy the ceremony while overlooking the ocean without worrying about trekking through the sand in their high heels.


Décor – when designing the floral décor for your ceremony, keep in mind you will be outside on the beach. Our clients always factor in rain for inclement weather plans but you also have to think about the wind. The wind is something you must strongly consider when selecting your ceremony décor. Flower petals are beautiful lining the aisle but only when they are set in place on a calm afternoon. Instead, select something more whimsical that will look beautiful in any conditions.
About Congress Hall
Providing hospitality since 1816, Congress Hall in Cape May is a haven of relaxed elegance, fun, historic charm and luxury at the New Jersey shore. Set amid landscaped grounds overlooking Cape May's broad sandy beaches, the iconic Congress Hall is just a few steps from the ocean in the heart of Cape May's famed historic district; perfect for a Jersey Shore beach wedding.
Guests can dine at The Blue Pig Tavern, the hotel's signature restaurant which features farm-to-table menu items from Beach Plum Farm. Additionally, Congress Hall guests, Cape May visitors and residents can experience the luxurious, accessible and relaxing Sea Spa.
Recently acknowledged by Condé Nast Traveler in 2013 as one of the top 75 Hotel Spa's in the United States, the Sea Spa is designed to look like the inside of a beach cabana to further enhance the feeling of a seaside getaway. Congress Hall was additionally honored by Condé Nast Traveler in 2012 as one of the top US hotels in the Northeast and again in 2013 made their list of the Top 10 Hotels in the Mid-Atlantic.
The property offers a wide variety of entertainment including the Boiler Room, a live entertainment lounge with great food, a fun atmosphere and New York downtown nightclub vibe, and the Brown Room, a lounge where hotel guests and locals mix and mingle enjoying cocktails and tasty appetizers. Congress Hall is located at 200 Congress Place, Cape May, NJ 08204.