These days, brides are breaking away from the traditional all-white look in favor of finding new ways to add color to their walk down the aisle. If you, too, are less than thrilled by an all white ensemble for your Philadelphia wedding, here are some of our favorite ideas to add a little pop of colors to your wedding dress.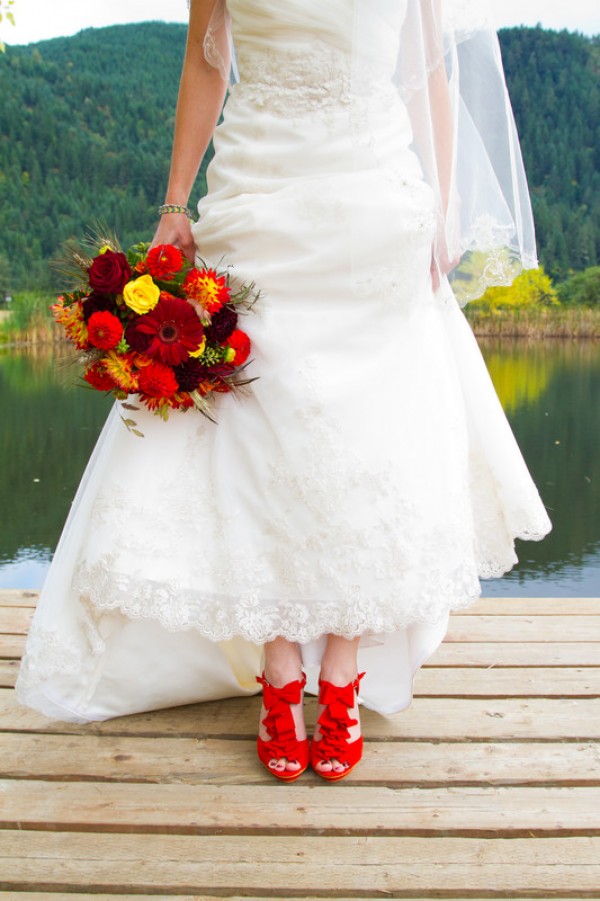 Photo credit: (c) CanStock Photo
Blush Gowns: The trend of colored wedding dresses has definitely been gaining momentum at wedding salons over the past couple of years, with brides tying the knot in everything from neutral colors, like blush and champagne. Color is a great and easy way to let your personality shine during your wedding, but if you're not quite invested in the idea of going all out with a colorful dress, there are plenty of other wonderful ways to incorporate color into your ensemble listed below!
Embroidery: Just because the fabric of your dress is white doesn't mean that it can't have a little color. Embroidered accents in pink, blue, or silver thread can create a subtle, but beautiful effect, adding interest and personality to your gown.
Sashes and Belts: Wearing a sash or belt is another popular way to add a colorful accent to your dress. Bridal salons offer these accessories in various styles. Simply ask your sales consultant! You often can find one to match your wedding colors or the dresses of your bridesmaids to help tie the color scheme together. Just remember that balance is key: if you have a very elaborate dress with lots of lacework and ruffles, choose something simple to go around your waist. On the other hand, if your dress doesn't have a great deal of embellishments, you can get away with a sash or belt that's more ornate. In addition, keep your body type in mind! If you have a short torso, a dramatic, color-contrasting belt can have the effect of making it look even shorter.
Jewelry: Many modern brides are choosing to use jewelry to incorporate a touch of color into their wedding apparel. If you are choosing to follow the "something borrowed, something blue" tradition, a necklace or bracelet can be a great way to fulfill the "something blue" idea. Custom jewelry is ideal because it can be tailored to your colors and tastes. Just make sure that your jewelry complements your dress, rather than overpowering it.
Wraps: If you're planning to have your wedding in the fall or winter, a colorful wrap is a great way to add that extra pop to your wedding wear, with the added benefit of keeping you warm! Again, many wedding salons in Philadelphia have these on hand.
Nail Polish: If you're feeling bold, nail polish is a wonderful way to add a splash of color to your appearance. Make a statement and feel free to experiment! Paint your nails to match your bridesmaids or try a bright red for a vintage look!
Shoes: Pairing colorful shoes with a white wedding dress is perhaps the most popular trend this year when it comes to bringing color to a bride's stroll down the aisle! Hundreds of brides are opting to ditch the nude and ivory pumps in favor of bright and fun footwear that really makes a statement! Use your shoes to pick up your wedding colors or to express your personality with your favorite color. Have fun choosing just the right pair to bring your vision to life.