I think the answer to your question lies not in what's right for your wedding, but rather what is right for your future household. Your wedding should reflect the spirit or nature of the home you plan on creating together. So, what kind of home do you plan on creating?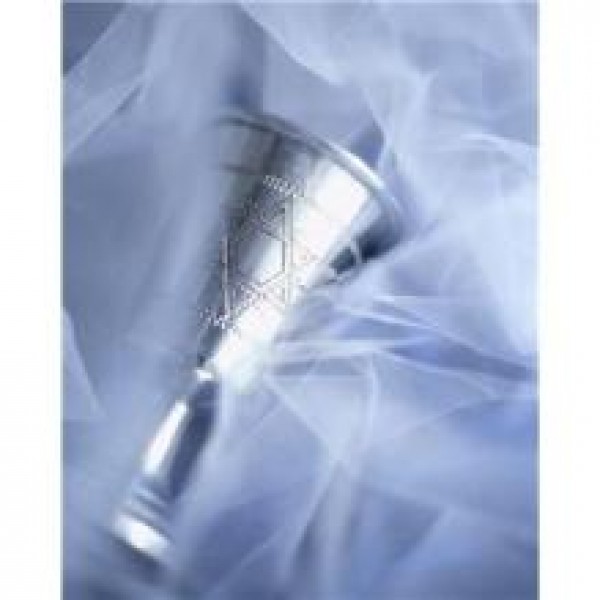 When it comes to identity, people almost never fit into the neat black-and-white depictions I will give here. But hopefully these examples shed light on the larger idea.
You are NOT planning on having kids, and …
• the bride goes to church regularly and the groom never goes to synagogue.
~ It sounds like your future home will be more Christian than Jewish, in terms of holiday and ritual expression, so a minister sensitive to a half-Jewish audience would make the most sense.
• neither couple identifies as "religious." You plan on celebrating Christmas with the Christian side and a Passover seder with the Jewish side, and that's pretty much it.
~ It sounds like a secular ceremony (whether officiated by a rabbi or a minister) is the best reflection of your future household. The officiant's "credential" (ie, whether "rabbi" or "minister") won't matter nearly so much as finding the right person. Some officiants have agendas. You need someone who can embrace a multi-faith audience.
• the bride cares about her Jewish heritage (though doesn't religiously celebrate) and the groom is basically atheist.
~ Probably a rabbi is best for you, but a rabbi who will create a Jewish ceremony that emphasizes the cultural aspects of Judaism over the theistic ones. Also, she or he needs to be comfortable working in multi-faith groups (which includes "atheists" – who are their own distinct faith group with their own set of beliefs.)
***
The examples I have given are for a couple not intending to have children. That was
intentional. When no kids are involved, it makes the conversation a little easier and more straightforward.
If you are planning on having children, the same principles apply, but the shades of gray get more complex. Your choices after all, will not only affect you as adults, but will also shape the childhood experiences of your kids, as well as have a major impact on their evolving identities.
Please see my additional post specific to raising kids in an interfaith home.
Other articles in this series:
"We are an interfaith couple. Should a rabbi or minister marry us?"
"How can I make my Jewish or interfaith wedding unique, funny or even funky?"
"Can I be a secular Jew and have a 'Jewish atheist' wedding?"
Hiring me to officiate your wedding in metro Philly
I love to hear from readers. Please post your comments below. To inquire about my wedding services, write me directly at joysa@aol.com.
***
Where's a Good Yenta When You Need One!? No need to sulk; The Matchmaker Rabbi is in! To see Joysa's columns for Jdate, visit here. Her forthcoming book on dating in Jewish suburbia is being represented by Red Sofa Literary Agency.