Many brides dream of wearing their mother's or their grandmother's wedding gown, but where to begin?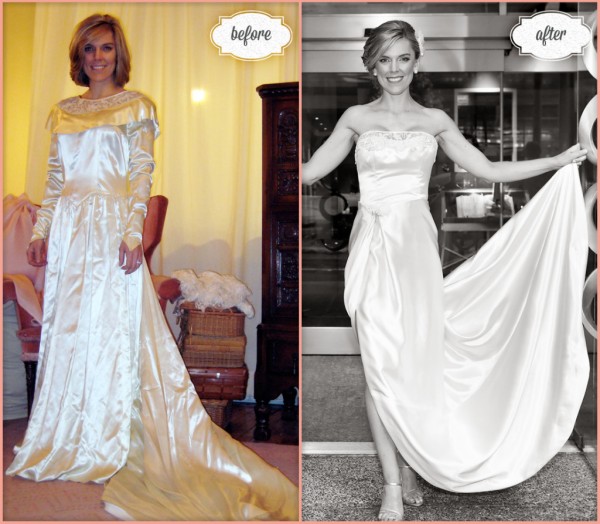 Is the original gown still in good condition? Does it need to be cleaned or is it damaged in some way?
Brides wanting to wear an heirloom wedding dress should first visit the Janice Martin Couture studio on Cricket Avenue in Ardmore, just outside of Philadelphia. Janice has worked with many brides in restoring and redesigning heirloom bridal gowns. As is the case for many brides, both fit and cut are major concerns. Vintage gowns can be taken apart and reconstructed for a more modern look and a precise fit.
Janice has removed sleeves, moved entire necklines, and reconstructed skirts. Janice has incorporated new fabric to match the fabric of original gowns for the creation of a new bodices and skirts on heirloom wedding dresses. In the case of bride Danielle (above), her mother's gown – which originally graced the cover of Brides magazine – was modernized and fitted appropriately for the bride.
And if these amazing before and after's haven't made you a believer, consider this… in 1997, the Philadelphia Museum of Art commissioned Janice Martin with the task of restoring Princess Grace of Monaco's original wedding veil for the exhibition entitled "Best Dressed: 250 Years of Style."