As a wedding officiant, one of the first questions couples ask me is where they can find a chuppah — the wedding canopy that is used traditionally in Jewish weddings. Chuppahs remain a popular element of Jewish weddings, including interfaith weddings, and for very good reasons.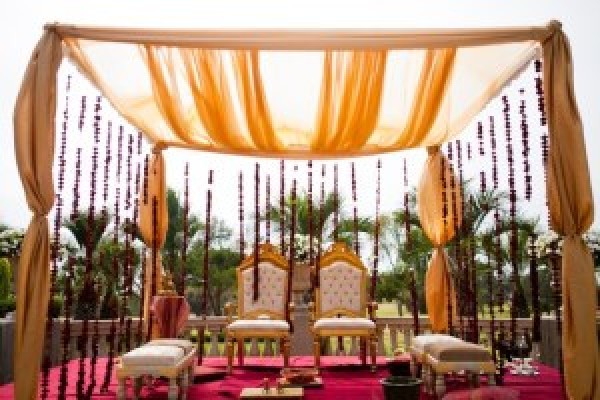 For starters, they are beautiful! They create a picturesque "frame" around the couple and carve out a visual space for the ritual events to unfold.
Secondly, the meaning of a chuppah works in so many different types of weddings. Although it is clearly a Jewish tradition, there is nothing Jewishly "exclusive" about it — meaning, it works perfectly well for Christians too.
The idea of a chuppah is that you are symbolically creating the new home that the couple is making together. Like a home, it has a cover, to provide shelter, but unlike a home, it is open on all sides. This symbolizes the idea that all couples need the help, love and support of the people around them; by keeping the walls open, they are inviting all of this love inside.
You maybe have noticed that there is nothing theistic about anything I have just said. The majority of weddings I officiate are for couples where at least one person self-identifies as an agnostic, atheist or secular humanist — and chuppahs work perfectly with these kinds of ideologies too! Inviting in the love of friends and family into your new home has nothing to do with an omnipotent being.
How To Find a Chappah: The Nuts and Bolts
All of that said, allow me to return to my previous point, which is the literal question: Where do I find a chuppah? Here is some advice that I have culled from couples whom I have married.
1) Start with your wedding venue. They may have chuppahs they can rent you, or they may have an "arch"-type piece of decoration worked into their grounds, which you can use as a symbolic chuppah.
2) Next stop is a florist. Many florists also rent chuppahs. If you have a florist and they don't offer chuppahs:
3) Third stop is looking for vendors who are strictly in the business of renting chuppahs. Keep in mind, the closer the vendor is located to the location of your wedding, the better the price they can offer. Travel time is often the biggest time drain for every person you are hiring to do your wedding! You will also pay more on a Saturday in May, when folks in the wedding business are booked out to the hilt, than you will on a Thursday in December.
4) Last idea: For those crafty inclined — or for those on a budget — or both, buy a chuppah starter kit (about $125 from one website I like, called www.galleryjudaica.com) and get handy. These kits will give you the basics of what you need, and you will usually need to figure out the polls.
I officiated a wedding for a couple who chose Organza Chuppah Silver for $125, free ground shipping, from Gallery Judaica. They invested a fair amount of time making polls with matching fabric and gold ribbon hanging off the end; I loved it!
These kinds of self-made chuppahs are NOT free-standing, which means, four people will need to carry it down the aisle, and then hold it for the duration of the ceremony. They are beautiful! I can't rave enough about how elegant they turn out. This kind of hand-held chuppah is also the most traditional style of chuppah (the free-standing ones are a later American innovation.) They work particularly well if you have a small wedding party.
Here are a few vendors that have been recommended to me personally, and at prices that strike me as reasonable. Keep in mind, you can pay upwards of $1,000 for a chuppah, depending on how fancy you want to get.
** Philly Event Rental (http://phillyeventrental.com/) offered a price quote of $450, with an additional $50 for lights. Their warehouse is located in the NE Philly / Port Richmond area. "We were very happy with how it turned out."
* A florist in South Philly, Baileflor, recently offered a price of $350, which included draping, flowers and hanging crystals. But she was also being paid separately for larger floral work at the ceremony, so it's not a straight comparison in the price department. "She can also customize depending on your budget," my source told me, and the couple "seems to be very pleased with her thus far."
Her contact info is below:
Leah Reinhard Albarouki
baileflor
www.baileflor.com
484.557.8010
Of course the best place to go these days to just scope out ideas at Pinterest. There, you will find thousands of pictures of chuppahs that people have uploaded to the site.
Have you rented a chuppah in the Philly area and liked the service you received? If so, please email me the name of the provider, the price you paid, and whatever other details are helpful to know, and I will add them to this list!
Searching for the perfect Philadelphia venue? Click here! Searching for vendors? Click here!