Surely, you have seen restaurant menus featuring craft beer flights with samples of locally-brewed ales, lagers and stouts. But now hops are making way for barley as whiskey flights are popping up on those nifty neighborhood restaurant chalkboard menus. So, too, are classic whiskey drinks with housemade bitters and Prohibition era whiskey centered cocktails.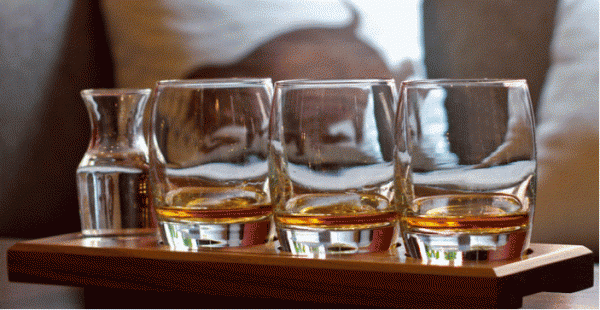 Photo credit: WorldFoodist.com
So why not lift your spirits literally with a whiskey bar at your Philadelphia wedding reception? It's perfect for a rustic wedding or upscale city ballroom. Here are some suggestions to incorporate your own whiskey flight or tasting at your wedding.
First, a brief education. Whiskey is under the umbrella of bourbons, ryes and Scotch. So when choosing a variety of types, the definition of whiskey is somewhat liberal.
Sip and savor is the best way to enjoy whiskey so with that in mind, use glassware that will encourage small sips—even your white wine glasses will do. They rounded glassware displays the whiskey's color nicely and contains the aroma of each kind. Try single malts over blends for your first whiskey tasting.
To make your display professional looking, use nice decanters instead of the original bottle. Signage is important and makes the table really pop. Choose to make it a self-serve event or schedule a time for the tasting and place 1.5 ounces into each glass, one portion for each whiskey in the flight.
Some points of conversation include noting the whiskey's clarity and aroma. The clearer, the better. The darker the whiskey, the more it has been aged. It will also taste different compared to its lighter colored contemporaries. Swirl the glass much like wine and notice the scent and look for common aromas. Next, take a small sip and compare the aroma to its taste and what your participants taste. With each new sip, clean the palate with an unsalted cracker. No matter if you agree or have different flavors, the results will surely spark a fun conversation among guests at your Philadelphia wedding reception.