The winter season can be a magical time for brides to get married.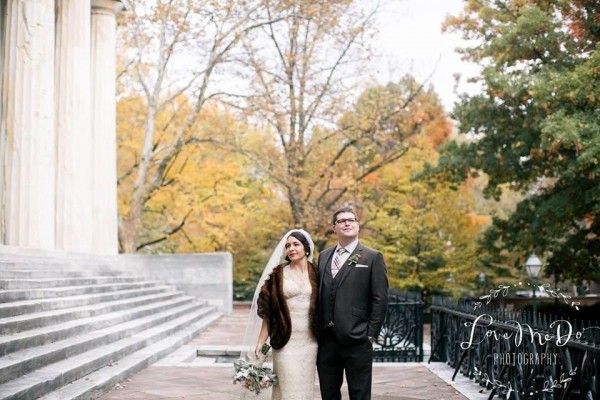 Photo credit: Love Me Do Photography/Nicole Bridal & Formal Shoppe
Many brides envision a snowy wonderland with white accents such as snowflakes, crystal icicles and even feather accents. Fur bolero's, jackets or coats for the bride and bridal party can be a great addition, not only for warmth but great for pictures! Typically, the bolero's/jackets are worn for outside photos in the winter landscape and traveling to and from the ceremony to the reception. Once the ceremony and reception begins, the boleros and jackets are removed.
One of the latest big trends in accessorizing winter gowns is belts. For winter weddings, a velvet beaded belt or fur belt have been newer additions to bridal gowns. Also, feathers in the hair have continued to be a popular accessory. Feathers around your flower bouquet and even fur on the bridal shoes are a great winter style.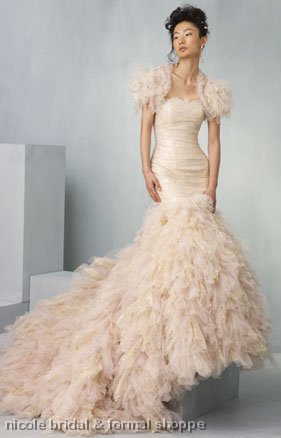 Photo credit: Nicole Bridal & Formal Shoppe/Designer: Ian Stuart
Gloves are also popular and add a look of elegance and formality to your wedding gown. Bridal gloves are worn for formal photographs and for the ceremony. Usually, they are removed during the wedding ring exchange.
Some brides have asked if it Is it still okay to wear strapless even in the dead of winter? The answer is yes! It is absolutely acceptable to wear a strapless bridal gown in the winter season. However, some fabrics are more acceptable in the winter such as the silk satin; as compared to the chiffon and organza fabrics that are more sheer which are more acceptable in the summer and spring seasons.