Recently, we met with The College of Physicians team and Catering By Design to take you on a tour of what a wedding is like at this beautiful historic Philadelphia venue.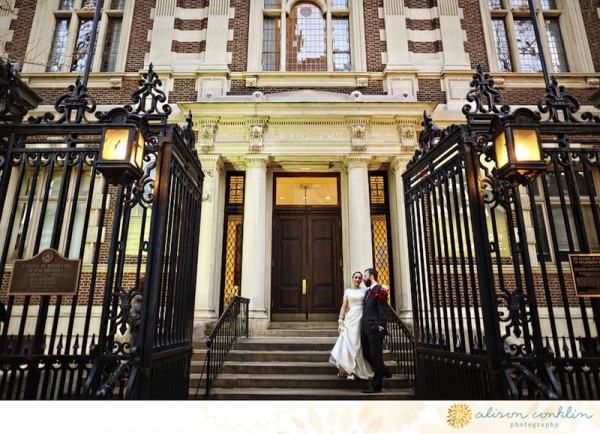 Photo credit: The College of Physicians/Alison Conklin Photography
This multi-faceted historic Philadelphia wedding venue provides a wonderful ambiance from cocktail hour with Catering by Design within the Medicinal Herb & Butterfly Garden, rotating exhibits, marble grand staircase to dinner and dancing at Mitchell Hall. We just love the card catalog backdrop for photos at Ashhurst Library!
</iframe" width="100%">
We turned to Diana, Sales Coordinator at The College of Physicians to lead the way. First, guests enter into the marble rotunda and then come through Thompson Gallery to outside the lovely veranda and medicinal herb and butterfly garden to have a wonderful outdoor ceremony.
After the ceremony which can fit up to over 200 guests out here, we head back into Thompson Gallery for cocktail hour. Typically, cocktail hour is in this room with a bar and hors d'oeuvres stations along with cocktail tables and seating for your guests. This is a changing art exhibit that changes twice a year. It's always medically related to go along with the collection that is inside The Mutter Museum.
After cocktail hour, we head upstairs to Mitchell Hall for dinner and dancing. Mitchell Hall is the largest ballroom and has the maximum capacity of 240 guests with the dancefloor. And adjoining it is Ashhurst Hall where an additional 120 guests can be seated.
Ashhurst Hall is also an indoor option for ceremonies and can hold up to 200 guests. The College of Physicians has beautiful spaces for your bridal party to take pictures on the day of your wedding in the event it's raining outside. There's Ashhurst Hall here with the fireplace. It's a lovely backdrop. As is the library catalog. Many wedding photos are taken here. Large family photos are also done on the marble stairs with people staggered on the steps.
An additional bonus of getting married at The College of Physicians is access to The Mutter Museum. It can be open during cocktail hour for your guests to walk through, look at the collection and mingle. It's a very nice bonus for that extra special museum environment. That's why they say The College of Physicians of Philadelphia is truly the cure for the common wedding reception.
Still searching for the perfect Philadelphia wedding or event venue? Click here! Searching for event professionals? Click here!