In Philadelphia, old factories and industrial spaces have been given new life as an event venue. And for good reason—industrial chic wedding venues are in high demand.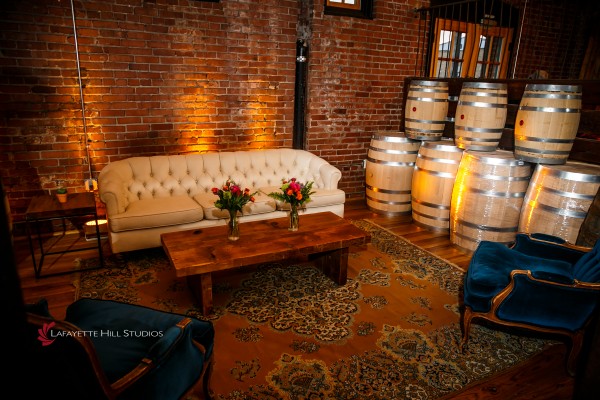 Photo credit: New Liberty Distillery
From reclaimed and worn brick, high ceilings and concrete floors to metal rafters and exposed beams, these industrial chic spaces provide a glimpse at history all while offering a unique spacious atmosphere. Here are some of our favorite industrial chic wedding venues in Philadelphia to get your unique wedding vision started.
This whiskey distillery, located in the historic stables at Crane Arts, boasts three stories of event space outfitted with rustic and industrial details: an exposed copper distilling system, salvaged dark wood, exposed rafters and vintage-inspired lighting. The added bonus: beautiful whiskey barrels as a backdrop and local spirits.
This striking warehouse photo studio is located in Philadelphia's Old City gallery district. Once the Wilbur Chocolate Factory, Power Plant Productions retains all of its industrial feel from this early 1900's power plant, with steel beams, 34 feet of industrial windows, diagonal hardwood floors, a 25-foot ceiling, exposed and painted brick walls and a massive interior smokestack as the centerpiece.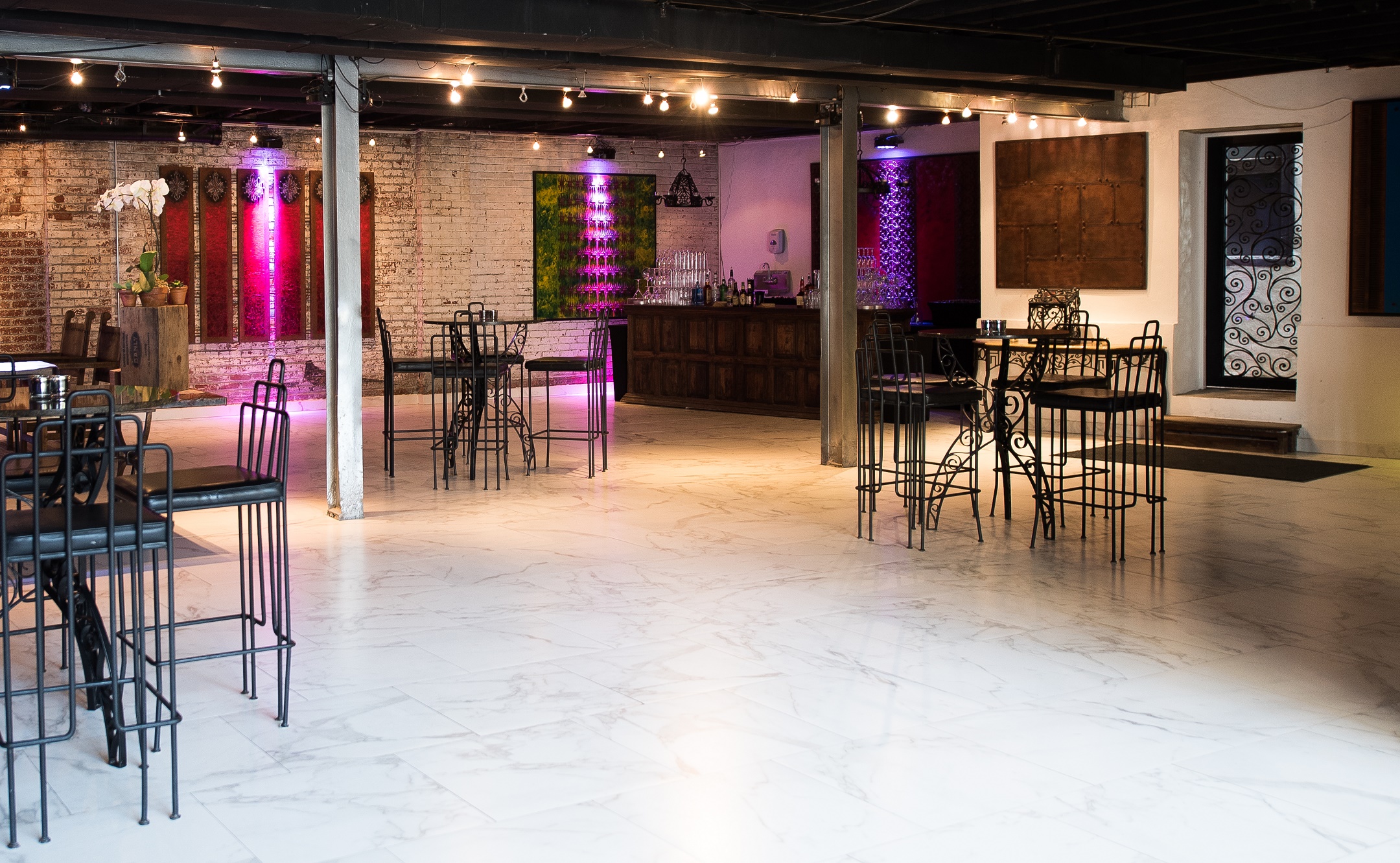 Photo: Artesano Gallery
Take industrial chic up a notch and you have Artesano Gallery. Once a historic early 1900's sprawling warehouse now offers a unique, spacious 21,000 square foot loft-style space taking you from ceremony to cocktail hour to reception.
Step through Artesano's 17-foot Glass facade and take in one-of-a-kind architectural hand-forged iron works. Substitute concrete flooring for white marble tiled floors (both indoor and out), add a magnificent live green plant wall and a stunning grand staircase--and that is just the beginning.
Brick and metal combine to set the backdrop for artistic works through the venue. Industrial metal framing and wooden rafters accent the reception space for a remarkable atmosphere.
Located in the Fishtown section of the city, this industrial chic venue is modeled after the legendary Fillmore in San Francisco. The 40,000-square foot landmark has a private event capacity for 3,000 guests, state-of-the-art sound and lighting system and lush interiors sure to wow every guest.
A bonus venue: The Philadelphia event venue also features a club within a club, the 400 capacity Foundry complete with its own bar, stage and top-of-the-line production is located on the second floor of The Fillmore.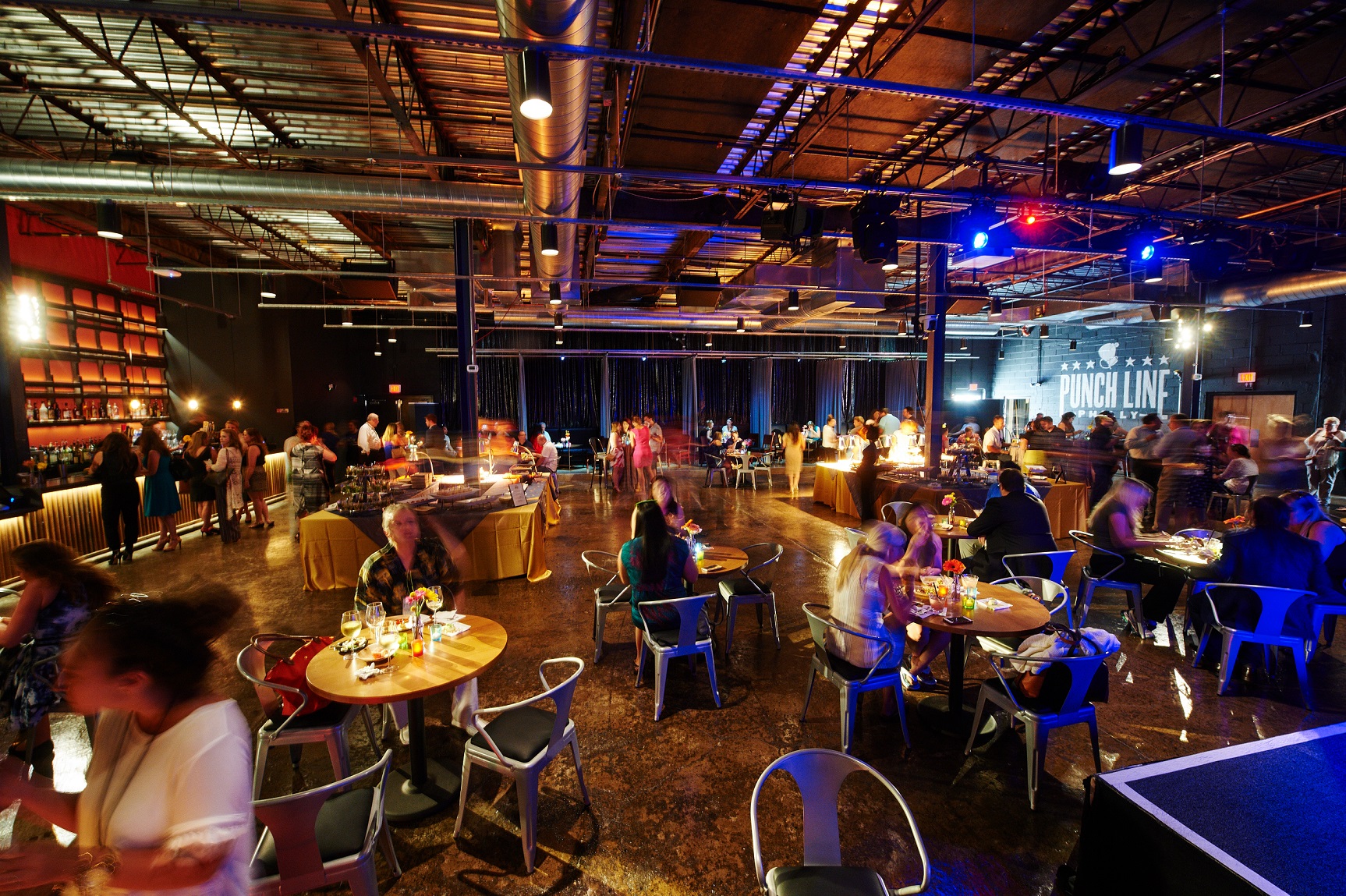 Photo: Punch Line Philly
Punch Line Philadelphia is a flexible mixed-use space merging rustic and industrial chic, perfect for private seated events up to 300 guests, and reception style events for 400 guests. Located across the street from The Fillmore, Punch Line offers a full bar, outdoor patio, seated and cocktail style set-ups and full-service catering.
Kensington Quarters is quite unique. Once a former welding shop in the Olde Kensington/Fishtown neighborhood, it is now a full-service restaurant with reception space. The interior stays true to its roots with hints of metal railings on the ceiling and large metal light fixtures, dotted with bistro lighting.
Originally a Civil War-era textile mill, Moulin is a blank canvas with 20,000 square feet of space reminiscent of a big city loft. The spacious venue accommodates up to 500 guests.
Moulin features exposed beam ceilings, massive iron-framed windows and striking columns that defines the historic building in East Falls.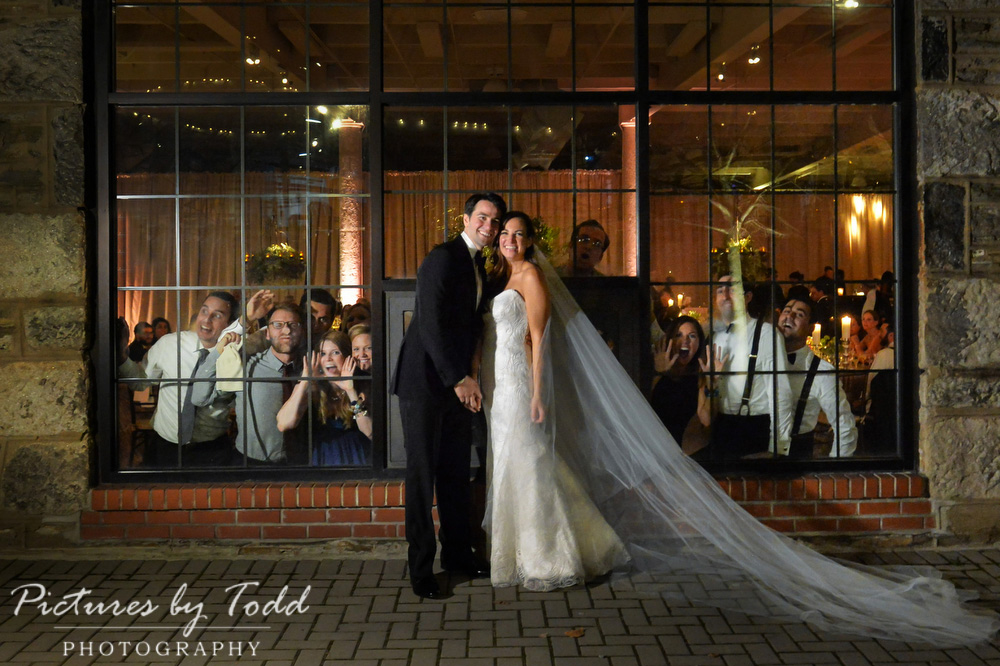 Photo credit: Moulin at Sherman Mills, Pictures by Todd
The Center's sleek and modern facility features brick walls and metal rafters and columns.
The Theater of the Living Arts
Theatre of the Living Arts' versatility is the perfect solution to fulfill all your event needs. With a capacity of up to 800 guests, this Philadelphia event venue on historic South Street offers intimacy as well as an all-inclusive solution to exceed your event expectations.
This century-old building in the heart of Phoenixville has been completely refurbished to reflect a cool and eclectic atmosphere with several spaces for your wedding or event: Franklin Hall, The Courtyard, Art Gallery, and Campus Walk. The space inside features large windows, soaring ceilings, wood accents, brick and metal rafters.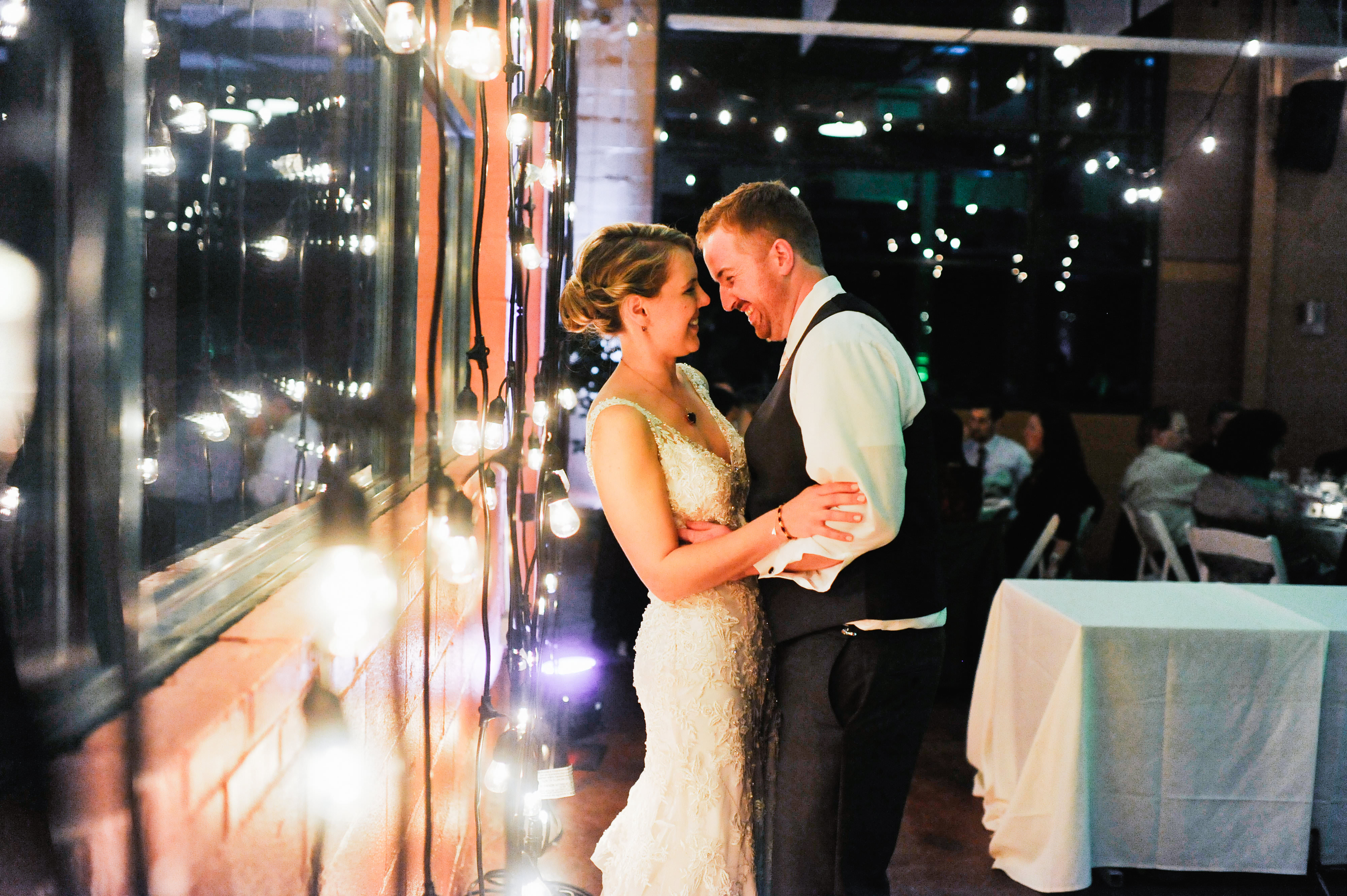 Photo: Franklin Commons
The building blends Old World industrial charm with stunning, chic modern interiors.
Built in 1882, Phoenixville Foundry is an architecturally stunning Chester County wedding and event venue on the banks of the French Creek. With 60' high ceilings, clerestory windows and dual sweeping staircases, the Foundry is a dramatic yet romantic backdrop to one of the most memorable days in a couple's lives. The venue offers flexible open spaces, industrial chic design, neutral color scheme, and cozy bridal suite.
The venue is modular and adaptable while measuring in over 12,000 square feet with multiple areas that can be divided into smaller, more intimate spaces. Coda accommodates up to 650 guests at once.
An ultra-chic, sleek and modern venue, Coda Philadelphia offers guests with an exclusive experience to Rittenhouse's premier event space with its flexible design.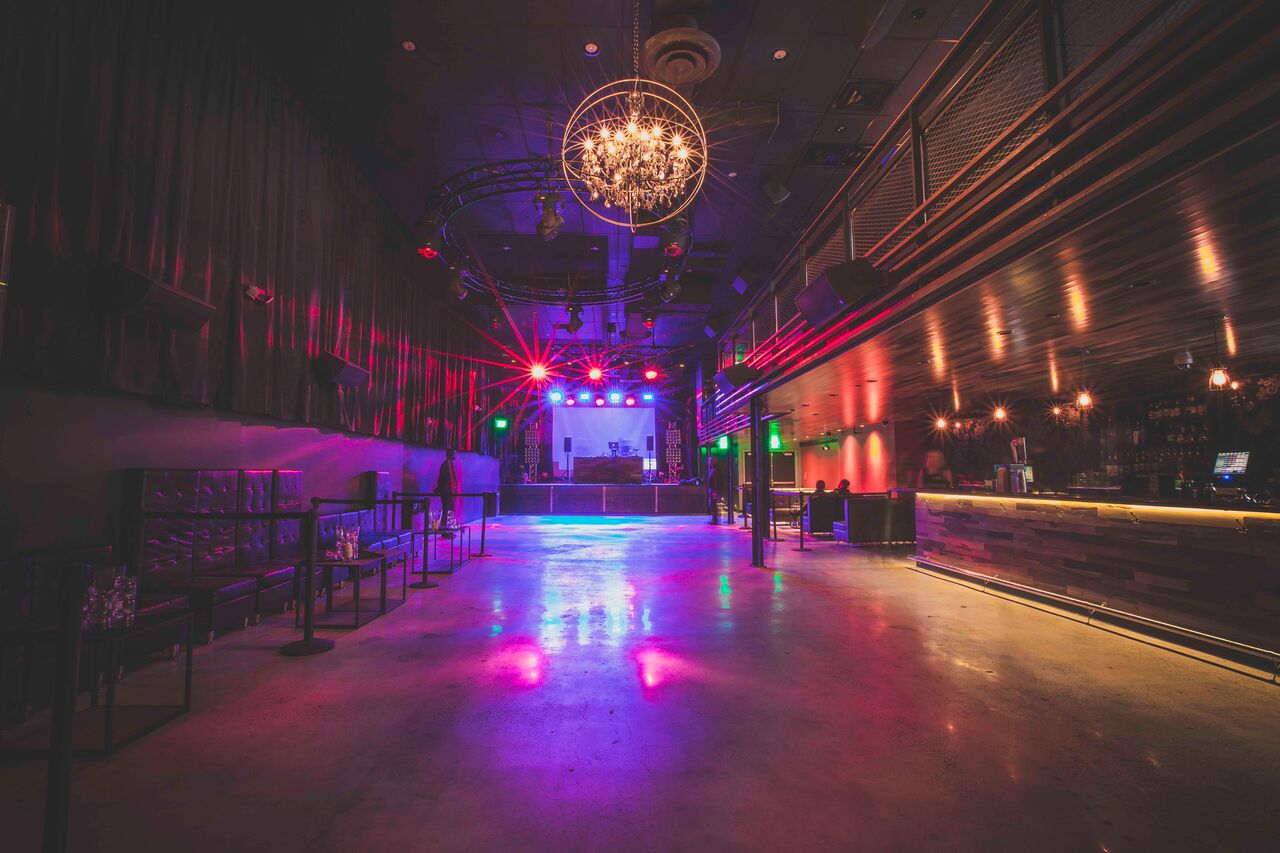 Photo: Coda
Reading Art Works is an eclectic and unique Berks County wedding venue indoors and out! The space features wooden rafters, exposed beams, brick, and metal ducts.
Front & Palmer is a former barrel factory in the new South Kensington Art District. It has 3,000 square feet of open loft space featuring 35' ceilings, art chandeliers and wood floors. It can easily transform into the wedding of your dreams.
You will enjoy its expansive space and private event rooms featuring traditional Old City Philadelphia brick with high end finishes.
An upscale cafe with an intimate stage. A dramatic 3-tiered performance space features exposed brick and metal accents in this restaurant/café and concert hall.
Check out some of our favorite venus in the city of Philadelphia!
Still searching for the perfect Philadelphia wedding or event venue? Click here! Searching for amazing vendors to make your celebration perfect? Click here!