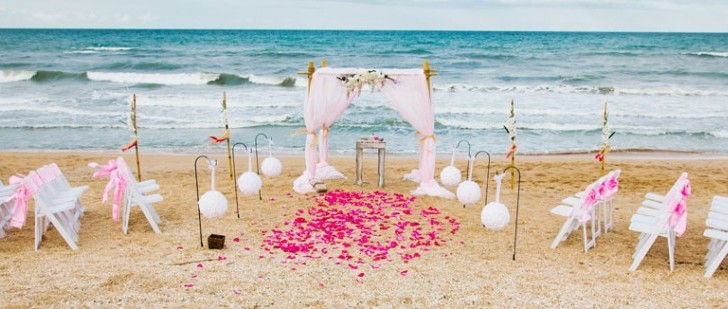 Wedding Bells and Seashells
Florida
Wedding Bells and Seashells
In love? Ready to say I do?!! Welcome to Wedding Bells and SeaShells. A little bit about us, my husband and I founded this company to live our dream of helping people create a magical wedding experience like the one we shared together in 2007. We were married on the beach in Key Largo, Florida in front of our families and friends. It was such a wonderful day and it sparked a deep desire to bring the same happiness to the lives of others.

Do you have a unique idea for a wedding and would like a creative team to implement your vision? You've come to the right place! Wedding Bells and SeaShells is an boutique wedding company that offers full service wedding planning to ensure a stress-free day. Coordinating and executing the fine details of your wedding is our biggest priority. This will allow you to focus on more important things…..you two! Our team is experienced and knowledgeable in all of our beach locations, our expertise will guide you through any decisions or overall design dilemmas. We aim to ensure that you and your guests are well cared for on your special day.

Wedding Bells and SeaShells is the best choice for your beach wedding in Fort Lauderdale or along the Palm Beaches. Let the stress of wedding planning go out with the sea. "Relax…..we'll take care of everything!"
Reviews
Our ceremony was absolutely beautiful and everything was perfect! It wouldn't have been possible without Wedding Bells and Seashells! I highly recommend Wedding Bells and Seashells with complete and total confidence for an absolutely amazingly beautiful beach wedding ceremony! Robert was an excellent officiant that wonderfully conducted our ceremony! Thank you so much Megan and Micah for all of your help, planning and coordinating, and for your awesome team that made our wedding ceremony so special for me and my husband and our families! With all of our gratitude and love! We are beyond extremely satisfied! We are on cloud 9 and so happy with our beach wedding and ceremony! Thanks again!
The crew of Wedding Bells and Seashells did an amazing job and our Jupiter Beach Resort wedding was absolutely BEAUTIFUL! Megan and Micah were always available when we needed them during the planning process and on our wedding day. The decorations were even better than imagined and our ceremony was unique and heartfelt. Also, the photographer Wedding Bells and Seashells contracted with for our pictures was extremely professional and a true artist. We couldn't have been happier with all Wedding Bells and Seashells provided for us. It was a perfect day!!
We couldn't be happier with our wedding day. Wedding Bells and Seashells took care of everything for us. We were awe struck when we walked to the beach and saw the beautiful arbor framing the ocean. We went with the Tiffany Blue Arbor and matching sashes for the white chairs. The sand was swept creating a walkway to the arbor. The Minister, Photographer and crew were fabulous and they have made the beach which we love, an even more special place for us.
Contact Person
Megan and Michah
Address
Ceremony Locations: Fort Lauderdale Deerfield Beach Lauderdale-by-the-Sea Pompano Beach