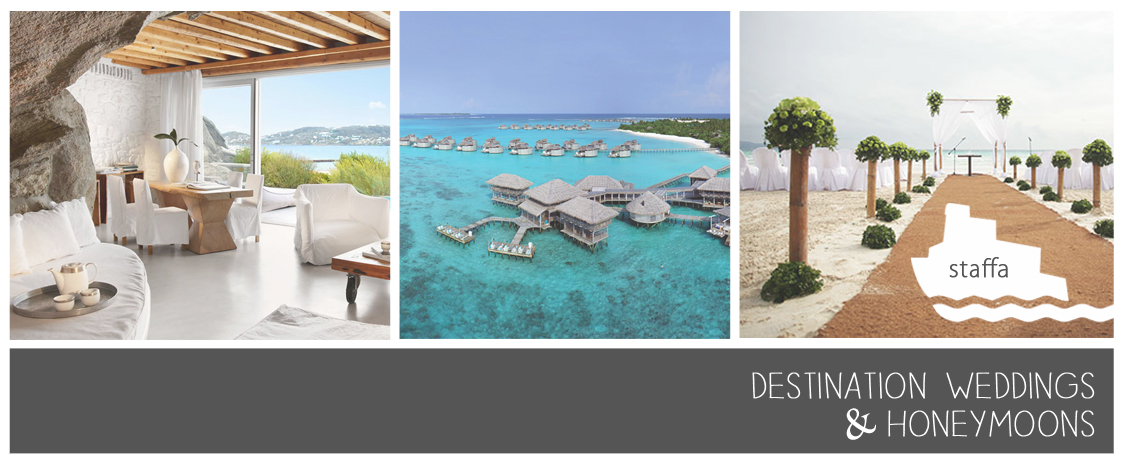 Closed: Staffa Travel
This venue has closed, this page is provided for historical reference only.
Pennsylvania
Staffa Travel
Welcome to Staffa Travel!
As an "adventure-preneurial" pair of well-traveled newlyweds, we created Staffa Travel to specialize in Honeymoons, Destination Weddings, and other Milestone Event Travel.
In case you stop reading in 8 seconds, here's what you should know -
We're fun, knowledgeable, time-saving, and we build travel experiences that focus on people.  We know that romance travel is different. There are no "packaged trips" on our wall waiting to be sold. 
Why plan with Staffa Travel??
1. Our reviews from past clients are worth bragging about!
brag, brag
2. We provide personalized service our large competitors can't afford to give, like 24/7 concierge with every trip - so you never have to worry.
3. Your trip reflects what's important to you.  We're not exclusive to certain brands, so all options are on the table.  
4. We shop around to get the best rates for you, so you don't spend a whole week online comparing prices. 
5. We make the planning process visually immersive to help you make choices- so it's fun!  
6. YOU decide how involved you want to be in helping us plan.
Need a honeymoon registry?
Take a look at our sample.
 Choose a matching registry card for your shower invites to let people know how to give a gift.  We'll even incorporate your wedding or shower colors if you'd like! Check out the first image in our collection below.
Contact Person
Brian Staffa
Address
8161 Day Drive, Pennsauken Township, NJ 08110